Offene Ohren e.V. presents Improvised Music in Munich
Friday, 18 November 2022, 8 p.m.
MUG - Munich Underground at Einstein Kultur
Sebastian Gramss' Bass Quartet
Freitag, 18. November 2022, 20 Uhr
MUG – Münchner Untergrund im Einstein Kultur
Sebastian Gramss' Bass Quartett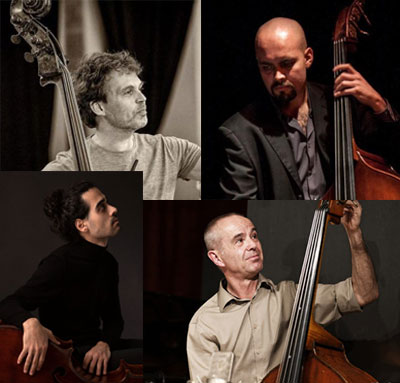 above:
Sebastian Gramss / D PhFoto © Frank Schindelbeck)
David Sánchez García / Mexico
below:
Javad Javadzade / Aserbaidschan
Dieter Manderscheid / D (Photo © Peter Tümmers)
This quartet by the Cologne composer and double bass player Sebastian Gramss, which emerged from the double bass ensemble Bassmasse, presents another project by this versatile musician, who is constantly discovering new paths in music.
Originally planned as music for a string quartet in a classical formation, a double bass quartet crystallized in the course of its creation, which evokes memories of the already existing double bass quartet BASZ, but which also shows a new position in the musical spectrum of the busy and curious Sebastian Gramss.
We look forward to meeting Dieter Manderscheid again, who was last a guest at the MUG in 2018 - together with Tobias Delius, Achim Kaufmann and Martin Blume.
David Sánchez García will fly from Mexico especially for this tour. In Mexico he is one of the figureheads of the local improv scene.
Javad Javadzade comes from contemporary music (Azerbaijan Symphony Orchestra, later solo bassist with the Georgian Philharmonic Orchestra) and experiments with new forms of music presentation.
Sebastian Gramms received the German Jazz Prize 2022 twice this year: On the one hand, his ensemble Hard Boiled Wonderland (with the album Music Resistance) was awarded the Special Jury Prize. On the other hand, his ensemble States of Play received the prize in the categorie Broadcast production of the year for its radio project Klänge der Stadt - Sonification on WDR 3. Congratulations!

The friends of improvised music of the Offene Ohren e.V. would like to thank the Kulturreferat München for its continuous help allowing to present improvised music in Munich.
© 2007-2022 Offene Ohren e.V.
last update 15 November 2022