Offene Ohren e.V. presents Improvised Music in Munich
Saturday, 15 October 2022, 8 p.m.
MUG - Munich Underground at Einstein Kultur
Concert as part of the Einstein Kultur 10-year anniversary program
XPACT II
Paul Lytton, percussion, electronics
Erhard Hirt, guitar
Stefan Keune, saxophones
Phil Wachsmann, violin, electronics
Photos © Rainer Schönfeld, Photo Phil Wachsmann © Thomas J. Krebs
Anniversary dates are always opportunities to look back. And since both the MUG (Munich Underground - vulgo Hall 4) and the Offene Ohren e.V. were already warrant for unusual, fascinating and inspiring musical experiences at this location, quite a while before the first decade of the Einstein Kultur, a separate - and even more outstretched - retrospect is allowed, which nevertheless points to a fascinating common future:
At the beginning of the 1980s, Central European musicians took up the London scene's very own art of improvisation, which took them a huge step away from American free jazz.
One of the key bands of that time came from NRW: XPACT
This band remained the standard and point of reference for free music for many years before the ensemble musicians merged into other formations, first of all, the King Übü Orchestrü.
Music groups with a revival - line-up after almost 40 years are not rarely viewed with skepticism. And XPACT II is just such a project. Their predecessor released their first and only album in 1984, a classic of second generation European free jazz.
Their new album, that was released last year, proves that we can look forward to this reunion with excitement rather than doubts. Complete sound abstraction can also be expected in the MUG in Einstein Kultur - timeless music that demands concentrated listening. This was indeed worth waiting for!
"They leave no doubt that this is distinctly quartet music: material is introduced and picked up, processed or discarded between the participants, the music evolving with a sure sense of musical direction as ideas overlap or interact with one another." (Kenneth Ansell, The Wire on XPACT II's debut album)
Location: MUG – Munich Underground at Einstein Kultur
10-year Einstein culture anniversary admission price: 5 euros
Pre sales: www.eventim.de
Here you get a unique chance to experience decades of assimilated European improvisation history for just 5 euros!
XPACT is supported by German Musikfonds:

And now the next anniversary: we are celebrating 20 years of Spill!
Monday, 17 October 2022, 8 p.m.
MUG - Munich Underground at Einstein Kultur
SPILL & Guests
above:
Tony Buck, drums
Magda Mayas, piano
Photo © Niklas Kammermeier
below:
Christine Abdelnour, alto saxophone
Angharad Davies, violin
Photo left © Heike Purnhagen Photo right © Peter Gannushkin
Spill is a German-Australian piano-drums duo from Berlin, with Magda Mayas on piano and Tony Buck on drums. In the 20 years of its existence, the duo has turned inside out quite a few expectations of these two instruments.
Percussively played piano has been known since Cecil Taylor's "88 tuned drums", but rarely a drummer caring so much about melodics, pitch and colors of sound could be witnessed.
Spill is not based on well-known principles such as call-response, melody-rhythm or theme and accompaniment. The friction created by the two musicians is instead the result of the fact that their musicality is so continuously and seamlessly intertwined that intensive noise clusters, filigree miniatures, expansive soundscapes or exquisite sound creations flow into one another completely organically.

Ever so often in past years, Magda Mayas and Tony Buck have invited special guests also to their anniversary tour, who will creatively further expand this universe of sound.
On the one hand there is the Welsh violinist Angharad Davies, who is oscillating between the worlds of contemporary composition and improvisation (for example with Apartment House, Axel Dörner, Taku Unami), on the other hand the French-Lebanese alto saxophonist Christine Abdelnour,, who is also a duo partner of Magda Mayas, and who was heard already earlier at the MUG, together with the sound artist Pascal Battus.
What awaits us on this evening is unpredictable, but certainly fascinating and ear-opening in the best sense of the word!
Location: MUG – Munich Underground at Einstein Kultur
Entrance fee: 15 Euro, members of Offene Ohren e.V. 12 Euro
Spill's jubilee tour is supported by German Musikfonds:

Tuesday, 15 November 2022, 8 p.m.
MUG - Munich Underground at Einstein Kultur
Satoko Fujii - Joe Fonda - Emil Gross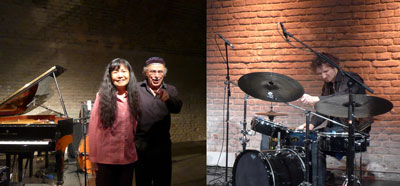 Satoko Fujii, piano / Japan
Joe Fonda, bass, flute / USA
Emil Gross, drums / A
Photos © H. Schneider
Satoko Fujii, Japanese pianist, and Joe Fonda, American bassist, had a duo concert at Offene Ohren e.V. in 2017. This time they bring the young Austrian drummer Emil Gross to Munich.
This concert is definitely a highlight of our autumn program: a trio with immense range and accurate style in every moment of their performance.
With more than 80 recordings by now, Satoko Fujii is an icon of the Japanese free music scene, oscillating seamlessly between improvisation, classical music, folklore, jazz, heavy metal and punk. Joe Fonda plays more jazz-grounded, but constantly makes excursions into the lyrical, experimental and also into the humorous, occasionally switching to the flute.
This duo came together in Portland (Maine/USA) at the end of 2015 for their first CD production, on the initiative of Joe Fonda. And it was this CD that immediately convinced us to get them for a performance at Offenen Ohren e.V..
The duo is complemented by Emil Gross, whose playing moves in the field of tension, between jam rock, experimental improvisation, jazz, blues, rock steady and Moroccan music.
The musicians are supported by the Japanese Cultural Institute:

Location: MUG – Munich Underground at Einstein Kultur
Entrance fee: 15 Euro, members of Offene Ohren e.V. 12 Euro
Friday, 18 November 2022, 8 p.m.
MUG - Munich Underground at Einstein Kultur
Sebastian Gramss' Bass Quartet
Freitag, 18. November 2022, 20 Uhr
MUG – Münchner Untergrund im Einstein Kultur
Sebastian Gramss' Bass Quartett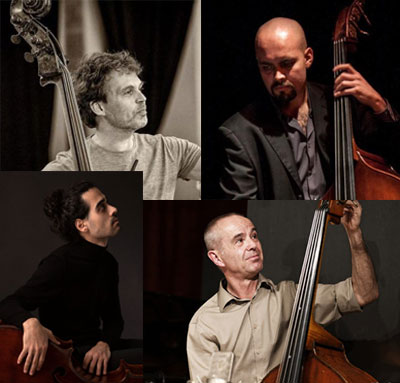 above:
Sebastian Gramss / D PhFoto © Frank Schindelbeck)
David Sánchez García / Mexico
below:
Javad Javadzade / Aserbaidschan
Dieter Manderscheid / D (Photo © Peter Tümmers)
This quartet by the Cologne composer and double bass player Sebastian Gramss, which emerged from the double bass ensemble Bassmasse, presents another project by this versatile musician, who is constantly discovering new paths in music.
Originally planned as music for a string quartet in a classical formation, a double bass quartet crystallized in the course of its creation, which evokes memories of the already existing double bass quartet BASZ, but which also shows a new position in the musical spectrum of the busy and curious Sebastian Gramss.
We look forward to meeting Dieter Manderscheid again, who was last a guest at the MUG in 2018 - together with Tobias Delius, Achim Kaufmann and Martin Blume.
David Sánchez García will fly from Mexico especially for this tour. In Mexico he is one of the figureheads of the local improv scene.
Javad Javadzade comes from contemporary music (Azerbaijan Symphony Orchestra, later solo bassist with the Georgian Philharmonic Orchestra) and experiments with new forms of music presentation.
Sebastian Gramms received the German Jazz Prize 2022 twice this year: On the one hand, his ensemble Hard Boiled Wonderland (with the album Music Resistance) was awarded the Special Jury Prize. On the other hand, his ensemble States of Play received the prize in the categorie Broadcast production of the year for its radio project Klänge der Stadt - Sonification on WDR 3. Congratulations!

The friends of improvised music of the Offene Ohren e.V. would like to thank the Kulturreferat München for its continuous help allowing to present improvised music in Munich.
© 2007-2022 Offene Ohren e.V.
last update 27 September 2022