Offene Ohren e.V. presents Improvised Music in Munich
Saturday, 10 June 2023, 8 p.m.
MUG - Munich Underground at Einstein Kultur
Baars/ Kneer/ Elgart
Bill Elgart, drums / USA
Meinrad Kneer, bass / D
Ab Baars, tenor sax, clarinet, shakuhachi / NL
Photo © Pierre Metzinger
After having met in many different musical occasions over the years in Amsterdam's lively improv scene, Baars and Kneer started to work in duo setting in 2008; this co-operation culminated in the internationally praised CD 'Windfall' (Evil Rabbit Records, ERR10).
Right after having played at the Amsterdam Bimhuis with guest drummer Bill Elgart in 2010, the duo became naturally a trio.
Since then, this trio Baars/Kneer/Elgart has been touring European clubs regularly and performing at festivals such as the Nickelsdorfer Konfrontationen and the Ulrichsberger Kaleidophon.
Their music is an intimate confrontation on sly musical improvisation levels. Together, they meander between form and abstraction, consensus and dissent, dissonance and response; their special force lies in the seemingly endless variations of timbre, which take place in their dialogues. Beautiful poetry!
"[...]This trio has articulated a sophisticated new iteration of the impulses that birthed free jazz, one that can be likened to the controlled explosions used to level abandoned buildings. Even though audience reactions were snuffed on Live at Konfrontationen Nickelsdorf 2012, it is safe to assume that Baars, Kneer and Elgart brought down the house." [Bill Shoemaker, Juni 2018, Moments Notice, about the release of the second album Live at Konfrontationen Nickelsdorf 2012, Evil Rabbit 24]
"[...] Raw, intense and powerful but also delicate and emotional, risk-taking but also compassionate."
[Eyal Hareuveni, 15.10.2021, zum dritten Album «thrīe thrēo drī»
JAZZWERKSTATT, 2021 JW215]
Location: MUG – Munich Underground at Einstein Kultur
Entrance fee: 15 Euro, members of Offene Ohren e.V. 12 Euro
Friday, 16 June 2023, 8 p.m.
MUG - Munich Underground at Einstein Kultur
dis/con/sent
improvising string quartet (Berlin-Lisboa)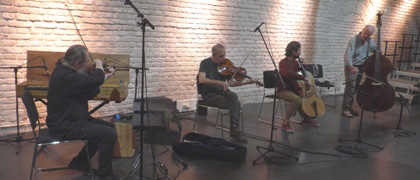 Dietrich Petzold, violin, viola, bowed metal
Ernesto Rodrigues, viola
Guilherme Rodrigues, cello
Matthias Bauer, bass
Perhaps you have already heard string quartets at concerts by Offene Ohren e.V. – for example the Wiener Strinqantet in 2020, Quatuor BRAC in 2019 or the British-Swiss Stellari String Quartet in 2015. dis/con/sent will surprise you!
Musicians from Berlin and Lisbon work together here to deepen the tonal and structural possibilities of a string quartet with improvisational means.
Dietrich Petzold (*1954 in Eisenach) lives in Berlin. After classical violin training, he has been a freelance violinist since 1975, both as a soloist and in various ensembles. Collaboration with Michael Griener and Uschi Brüning, among others. He also works as a composer and director for radio plays, theatre, film and television.
Ernesto Rodrigues(*1959 in Lissabon) has been playing the violin in various contexts such as new music, free jazz and free improvisation for 50 years. Since 1999 he has also been running the Creative Sources Recordings label for electroacoustic and experimental music in Lisbon
Guilherme Rodrigues (*1988 in Lissabon) is the son of Ernesto Rodrigues. He learned trumpet and cello, was initially an orchestra musician in Portugal and since the late 1990s has turned entirely to free improvisation. He currently lives in Berlin, where he works with musicians such as Biliana Voutchkova, Yorgos Dimitriadis, Harri Sjöström and Adam Pultz Melbye.
Matthias Bauer (*1959 in Sonneberg), bassist, improviser and composer, brother of trombonists Johannes and Conny Bauer, lives in Berlin. As a specialist in contemporary music, he has performed important solo bass compositions and works in various contemporary music ensembles. Collaboration as an improviser with Floros Floridis, Georg Gräwe, Willi Kellers and Rudi Fischerlehner. He was part of the Soundscapes #3 Ensemble 2021.
Location: MUG – Munich Underground at Einstein Kultur
Entrance fee: 15 Euro, members of Offene Ohren e.V. 12 Euro
This concert is made possible by the Federal Culture Prize Applaus.

Monday, 19 June 2023, 8 p.m.
MUG - Munich Underground at Einstein Kultur
Improvisation
Naoto Yamagishi & Masako Ohta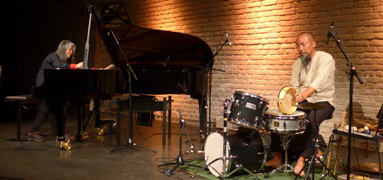 Naoto Yamagishi, percussion / J
Masako Ohta, piano / J
Photo on the right © Elias Hassos
Tokyo-born pianist Masako Ohta lives in Munich. She has received numerous awards and is active in the fields of classical and new music, improvisation, film scoring and as a performative composer. She deals intensively with poetry, sound and music from Japan, Europe and other cultures and creates intercultural and interdisciplinary projects and concert series.
In June we can look forward to a special duo with the Japanese percussionist Naoto Yamagishi, who currently lives as guest artist (City of Munich's artist-in-residence program) in the Villa Waldberta.
Naoto Yamagishi is in search of original music, even before its formal definition and categorization – a music free from formal constraints that travels between places with fluid movements and sounds, that come from nature and everyday life, with its rhythms, its sonority and their space. He collaborates with various artists, regardless of genre – musicians, dancers, poets, photographers, calligraphers, ikebana and media artists from Japan and overseas.
Masako Ohta and Naoto Yamagishi take us on an imaginary journey through time, a timeless cinema for the ears. They take us into an archaic world of music beyond cultural boundaries and methodical drawers. Nevertheless, their musical background and life experiences shine through again and again, without ever consolidating into a conventional style.
Sounds, hissing, rustling and melodic echoes alternate with cleansing thunderstorm passages. Intense, subtle and uncompromising – the fascination of the everyday!
Location: MUG – Munich Underground at Einstein Kultur
Entrance fee: 15 Euro, members of Offene Ohren e.V. 12 Euro
Wednesday, 12 July 2023, 8 p.m.
MUG - Munich Underground at Einstein Kultur
GoMaEdNa
Gordoa / Malfon / Edwards / Narvesen
Dag Magnus Narvesen, drums / N
John Edwards, bass / GB
Emilio Gordoa, vibraphone, percussion / MEX
Don Malfon, saxophone / E
GoMaEdNa: Four curious and creative souls meet here to further inspire the achievements of free jazz.
There is the young, up-and-coming Mexican percussionist and vibraphonist Emilio Gordoa. He has been living in Berlin since 2012, and his pronounced artistic curiosity quickly secured him a place in the scene of free improvisation, free jazz, noise, experimental music and sound art. He prepares his vibraphone with various utensils, expands its sounds by exploring new playing techniques and thus completely redefines this traditional jazz instrument. Already in 2021 he was a guest at Offene Ohren e.V., at Soundscapes #3 Munich.
Saxophonist Don Malfon, a great stylist from Spain, has the serenity of those who have already explored and expanded the limits of free playing in countless encounters with colleagues, without losing intensity or even passion.
John Edwardsis undoubtedly one of the currently most sought-after bassists with a free playing style. The Briton seems to have been redefining the word Brexit for years, his countless trips to festivals and clubs throughout Europe and the rest of the world honor him as one of the greats of the genre. Big names like Joe McPhee, Phil Minton, Roger Turner, Sunny Murray and Louis Moholo-Moholo are among his playing partners.
And then there is the young Norwegian Dag Magnus Narvesen, who was also a guest of Offene Ohren e.V. in 2021, at Soundscapes #3 Munich. Among his own projects and as a member of countless large and small bands, the following should be mentioned here: the Schlippenbach/Narvesen duo, the Dag Magnus Narvesen Kvintett and the Kitchen Orchestra.
Extremely promising!
[-> Review by Mark Byrne at A L'ARME Festival 2018]
Location: MUG – Munich Underground at Einstein Kultur
Entrance fee: 15 Euro, members of Offene Ohren e.V. 12 Euro
We are very happy about our fifth APPLAUS-Preis in the category Best Small Venues and Concert Series, which we received from Claudia Roth, Minister of State for Culture, in Erfurt in November 2022.

APPLAUS - Federal Culture Prize for Exceptional Live Music Programming, honors with the category Best Small Venues and Concert Series "in particular all those who realise extraordinary programs with just a few people and often little financial recources." [www.initiative-musik.de]
The award ist not only an important non-material recognition. Thanks to the prize money, we can expand our spring concert program for you with some additional concert highlights.

The friends of improvised music of the Offene Ohren e.V. would like to thank the Kulturreferat München for its continuous help allowing to present improvised music in Munich.
© 2007-2023 Offene Ohren e.V.
last update 21 May 2023