Offene Ohren e.V. presents Improvised Music
for your planning
--> preview concert program (v2) as pdf
>> Offene Ohren e.V. received Federal Music Award APPLAUS 2017 for its outstanding live music program
On October 25, 2017, the Federal Prize APPLAUS was awarded for the fifth time in Dresden by the Minister of State for Culture and the Media, Prof. Monika Grütters, to independent music clubs and organisers for their excellent live music programs. We were in attendance.
For its "outstanding live program", Offene Ohren e.V. has received this award for the third time after 2014 and 2016. We are highly honored and encouraged to continue in our course. With the prize money, we will continue to offer you exciting concert experiences in 2018.
.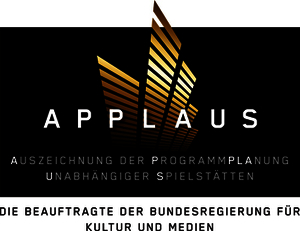 The Venue Programme Award APPLAUS – Auszeichnung der Programmplanung unabhängiger Spielstätten - is realised by the Initiative Musik, with the collaboration of the Bundeskonferenz Jazz (BK Jazz) and the LiveMusikKommission, Verband der Musikspielstätten in Deutschland e.V. (LiveKomm). The bulk of the project's funding is provided by the German Federal Commissioner for Culture and Media.

The friends of improvised music of the Offene Ohren e.V. would like to thank the Kulturreferat München for its continuous help allowing to present improvised music in Munich.
© 2007-2018 Offene Ohren e.V.
last update 17 July 2018