Offene Ohren e.V. presents Improvised Music
Friday, 13 July 2018, 8 p.m.
Subsonicspace 2018
MUG - Munich Underground at Einstein Kultur
Olaf Rupp - Ulrike Brand Duo
Ulrike Brand, cello / DE
Olaf Rupp, guitar / DE
Photo: © Paetrick Schmidt
The specific consonance of cello and electric guitar creates the unique poetics of this Berlin duo Ulrike Brand and Olaf Rupp.
Despite of belonging to very different semantic fields — cello the instrument associated with the romantic sound ideal and electric guitar as a synonym for rock music — they reveal confusingly similar timbres and playing techniques.
Arco and pizzicato are just as exchangeable as are overtone sounds, arpeggios, clusters, noise and other extended techniques. This is only possible because of an elaborate setup of loudness-modulation on the electric guitar. The result is a stylistic freedom in an associative "play" with similarity and role exchange, reprise and anticipation. The duo-constellation is potentiating these effects when the continuing input of sounds from one player becomes part of the overall sound and at the same time acts upon the other player creating a reciprocal flow of communication.
Because of her experience in performing contemporary classical compositions in the past decades, cello player Ulrike Brand can draw upon all the varieties of different extended playing techniques that are used there. She uses sounds and noises as equivalent material, pitch is treated as a continuum and the whole body of the instrument can create sounds. This is also accentuating the gestural element of the performance.
Guitar player Olaf Rupp explores on his instrument in uncompromising radicallity the field of free improvisation. The extreme virtuosic playing techniques which he has developed by himself are the result of a unique artistic discipline far away from the usual standards and conventions. He is always expanding the sonic range of his instrument evermore. In his subtle, pointillistic soundworld every single note appears as a colour-dot inside of a larger matrix.
Audio samples on Soundcloud and YouTube.
Location: MUG - Munich Underground at Einstein Kultur
Entrance fee: 15 Euro, members of Offene Ohren e.V. 12 Euro
>> Offene Ohren e.V. received Federal Music Award APPLAUS 2017 for its outstanding live music program
On October 25, 2017, the Federal Prize APPLAUS was awarded for the fifth time in Dresden by the Minister of State for Culture and the Media, Prof. Monika Grütters, to independent music clubs and organisers for their excellent live music programs. We were in attendance.
For its "outstanding live program", Offene Ohren e.V. has received this award for the third time after 2014 and 2016. We are highly honored and encouraged to continue in our course. With the prize money, we will continue to offer you exciting concert experiences in 2018.
.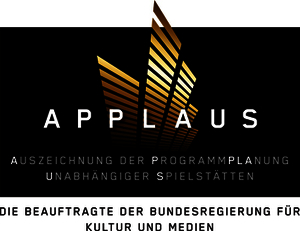 The Venue Programme Award APPLAUS – Auszeichnung der Programmplanung unabhängiger Spielstätten - is realised by the Initiative Musik, with the collaboration of the Bundeskonferenz Jazz (BK Jazz) and the LiveMusikKommission, Verband der Musikspielstätten in Deutschland e.V. (LiveKomm). The bulk of the project's funding is provided by the German Federal Commissioner for Culture and Media.

The friends of improvised music of the Offene Ohren e.V. would like to thank the Kulturreferat München for its continuous help allowing to present improvised music in Munich.
© 2007-2018 Offene Ohren e.V.
last update 16 May 2018