Concerts 2018
Wednesday, 05 December 2018
Subsonicspace 2018
MUG - Munich Underground at Einstein Kultur
AAaA - About Angels and Animals
Klare+Gabriel Sax Duo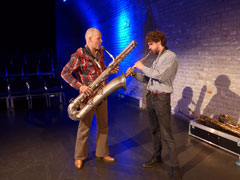 Jan Klare, saxophone
Julius Gabriel, saxophone
The final concert of the year 2018 will be a combination, which we associate more with a large formation - Jan Klare as leader and Julius Gabriel as a member of the formation the Dorf, which already mixed up several European festivals.
In the intimate, yet expressively explosive saxophone duo they will tell us stories "about Angels and Animals" - we are curious!
Friday, 23 November 2018
Subsonicspace 2018
MUG - Munich Underground at Einstein Kultur
Instant Songs
Frank Gratkowski, saxophone
Sebi Tramontana, trombone
The last concert in November will also be a déjà vu: Frank Gratkowski and Sebi Tramontana presented their "Instant Songs", spontaneous lyrical-melodic to expressive "stories from the fairytale forest", already in 2005 in the Seidlvilla.
Both have been successful in numerous formations ever since. But this project is especially important to them, as it is completely different from all their other activities. After thirteen years we are looking forward to listening them again. Open Ears!
Friday, 16 November 2018
Subsonicspace 2018
MUG - Munich Underground at Einstein Kultur
rts - Hirt/Walter/Vorfeld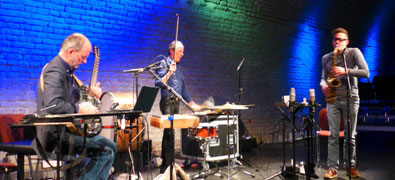 Erhard Hirt, guitar, electronics
Michael Vorfeld, percussion, stringed instruments
Florian Walter, alto saxophone, contrabass saxophone
The cryptic abbreviation "rts" stands for the guitarist and electronic engineer Erhard Hirt, the drummer, inventor of percussive string instruments and light bulb artist Michael Vorfeld and the saxophonist Florian Walter.
Erhard Hirt and Michael Vorfeld were already in different formations guests of Offene Ohren e.V.. In this new trio we will experience an amalgam of generation-spanning experimental sounds.
Saturday, 03 November 2018
Subsonicspace 2018
MUG - Munich Underground at Einstein Kultur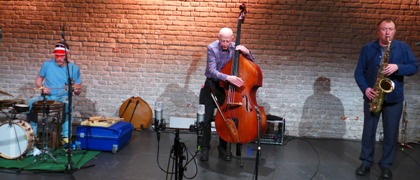 Ståle Liavik Solberg, drums / N
Barre Phillips, bass solo / USA
John Butcher, tenor and soprano saxophone / GB
3. Set: Barre Phillips + John Butcher & Ståle Liavik Solberg Duo
Doppelkonzert !
Dieser Konzerttermin ist eine einzigartige Möglichkeit, zwei Großmeister der Improvisation an einem Abend und in der Intimität des MUG auch hautnah zu erleben: Zum einen Barre Phillips mit einem exklusiven Bass Soloauftritt, sein einziges Konzert nach einem Festivalauftritt in Salzburg, zum anderen John Butcher, einer unserer Wegbegleiter der ersten Stunde, der diesmal Ståle Liavik Solberg, einen jungen, experimentierfreudigen Schlagzeuger aus Norwegen, mitbringt.
Barre Phillips Bass Solo: End to End
Konzertkooperation mit ECM Records
End to End heißt Barre Phillips' jüngstes Solowerk, entstanden in Südfrankreich und erschienen auf dem Münchner Plattenlabel ECM Records.
Barre Phillips beeindruckt hier, ob pizzicato oder arco spielend, mit seiner Entschiedenheit: Jede Note, jede Klangfarbe, jeder Sound und jede Form ist wohlüberlegt, sorgfältig strukturiert und gleichzeitig voller eruptiver Kraft und emotioneller Energie. Dies ist die derzeit letzte Station auf einer inneren musikalischen Reise, die vor 50 Jahren mit der Veröffentlichung der weltweit ersten Bass-Solo-LP (Journal Violon) begann.
Zum fünften Mal ist Barre Phillips schon zu Gast bei den Offenen Ohren – zweimal im Trio dlp mit Urs Leimgruber und Jacques Demierre, einmal im Duo mit dem Kanadischen Geiger Malcolm Goldstein, und einmal mit seinen Bassistenkollegen Tetsu Saitoh und Sebastian Gramss. Und dennoch ist dieses Konzert eine Premiere: erstmals kommt er als Solist in den MUG, "our old bunker friend of Munich", wie Barre den Konzertort liebevoll beschreibt (Listening, Lenka Lente 2016).
John Butcher & Ståle Liavik Solberg Duo
John Butcher, Tenor-, Sopransaxophon / GB
Ståle Liavik Solberg, Schlagzeug / N
John Butchers Duo mit Ståle Liavik Solberg entstand im Jahr 2015 im renommierten Londoner Café OTO. Es folgten Tourneen in Skandinavien und England.
Unkonventionell ist sowohl Spielweise und musikalisches Material als auch die Instrumentierung – Solbergs Schlagzeug ist eine Ansammlung von Snaredrums verschiedenster Größen.
Die Duokonzerte oszillieren zwischen relaxtem Drive und musikalischen Konfrontationen und Herausforderungen. Haben die Beiden Neues zu erzählen? Ja sicher, immerzu und immer anders! Nicht in dem Sinne, dass der Ausdruck an sich neu wäre, die Feinheiten stecken vielmehr im Detail und in den vielen Mikrostrukturen und Dialogen; und sie machen wieder einmal die Vitalität und kontinuierliche Selbsterneuerung grenzenloser Improvisation deutlich.
Thursday, 25 October 2018
Applaus 2018
MUG - Munich Underground at Einstein Kultur
Fish-Scale Sunrise
Ab Baars, tenor saxophone, clarinet, shakuhachi
Joe Williamson, bass
Kaja Draksler, piano
Fish-Scale Sunrise - Ab Baars' neues Trio wurde nach einem Gedicht des amerikanischen Lyrikers und Essayisten Wallace Stevens (1879–1955) benannt.
Zum ersten Mal taucht in einem Ab Baars-Ensemble ein Klavier auf, wunderbar gespielt von der slowenischen Pianistin Kaja Draksler, die Ab Baars auch schon in ihre eigenen Projekte eingeladen hat. Das Klavier erweitert die Möglichkeit für seine Kompositionen und Improvisationen. Es ermöglicht ein neues Gewicht für Nuancen von Timbre und Dynamik sowie einen harmonischen Reichtum, der mit dem eines Orchesters konkurriert.
Die schlagzeuglose Besetzung zieht die Musik aus dem Jazz-Idiom heraus und gibt dem Bass einen einzigartigen Platz im Gesamtsound. Joe Williamsons enorme stilistische Bandbreite und profunde Technik tun dazu ihr Übriges.
Die Breite des Triospiels reicht von moderner Klassik bis hin zu kompletter Freiheit von Ausdruck, Stil und Expressivität. Ab Baars´einzigartiges Spiel wird hier in einem komplett neuen Kontext beleuchtet, und das Trio wirkt gleichermaßen selbstsicher und enthusiastisch wie suchend und erforschend – intellektuell, intim und emotionsgeladen! Ein Erlebnis, das durch den APPLAUS-Preis der Initiative Musik ermöglicht wird.
Friday, 19 October 2018
Subsonicspace Series 2017
MUG - Munich Underground at Einstein Kultur
Flutes 'n' Squeaks
Mark Alban Lotz, flutes
Alan "Gunga" Purves, drums, squeaks
Alan "Gunga" Purves und Mark Alban Lotz laden uns heute ein auf eine imaginäre Achterbahntour voller Emotionen, schrecklich lustig, spannend, unvorhersehbar, zwischen Sternenstaub und Hühnerfarm, zwischen Klassik und Slapstick, zwischen Traum und Albtraum.
Der Schlagzeuger und Squeekologist Alan 'Gunga' Purves und der Multi-Flötist Mark Alban Lotz sind beide dafür bekannt, ihre eigenen musikalischen Universen zu entwickeln und mit allerlei schrägen Gestalten und Stories zu bevölkern.
Zusammen sind sie Garanten für ein einmaliges musikalisch-visuelles Abenteuer: Zwei Modernisten, die sich zusammentun, um mit neuerfundenen Sounds eine Reise in verschüttete alte und verquere neue Welten zu unternehmen. Die beiden werden uns neue Sichtweisen auf Klänge, Melodien, Rhythmen geben, und, so ganz nebenbei, eine aberwitzige Story erzählen.
Friday, 12 October 2018
Subsonicspace 2018
MUG - Munich Underground at Einstein Kultur
Das B
Magda Mayas, piano
Mazen Kerbaj, trumpet, objects
Mike Majkowski, bass
Tony Buck, drums
Mazen Kerbaj, improvisierender Trompeter und kritischer Zeichner und Karikaturist aus dem Libanon und Mitbegründer der dortigen Improvisationsszene, lebt heute in Berlin.
Analog zu seinem seit 13 Jahren existierenden Beiruter Improvisationsensemble "A" Trio hat er 2015 in Berlin sein Quartet "Das B" zusammengestellt. Er kooperiert hier mit dem Duo Spill, bestehend aus Magda Mayas und Tony Buck, sowie dem Kontrabassisten Mike Majkowski, drei Musiker der international zusammengesetzten Berliner Improv-Szene.
Anfang 2015 waren ¾ dieses Projektes bereits einmal in München zu Gast. Offene Ohren e.V.–Mitglied Colin Gilder organisierte damals ein Triokonzert mit Mazen, Magda und Tony in der Villa Stuck.
Alle vier Musiker haben jeweils individuell sehr persönliche und raffinierte Ansätze für ihre Instrumente entwickelt. Als Quartett erschaffen sie einen Baldachin differenzierter Klangwelten, welche sich natürlich entfalten und organisch entwickeln.
Friday, 13 July 2018
Subsonicspace 2018
MUG - Munich Underground at Einstein Kultur
Duo Jan Roder - Olaf Rupp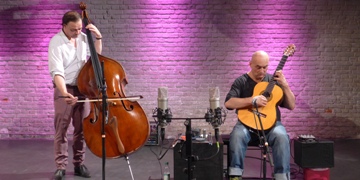 Jan Roder, bass
Olaf Rupp, guitar
Olaf Rupp and Jan Roder have known each other for a long time. They play in
a duo setting as well as in a trio with Rudi Mahall, called JR3, having just
released a new CD on the New York label Relative-Pitch-Records.
Jan Roder has played with various well-known representatives of progressive
jazz in Germany, such as Alexander von Schlippenbach, Axel Dörner or Ulrich
Gumpert.
Guitar player Olaf Rupp explores on his instrument in uncompromising radicallity the field of free improvisation. The extreme virtuosic playing techniques which he has developed by himself are the result of a unique artistic discipline far away from the usual standards and conventions. He is always expanding the sonic range of his instrument evermore. In his subtle, pointillistic soundworld every single note appears as a colour-dot inside of a larger matrix.
We are to experience a technically savvy, focused and playful duo of
acoustic guitar and double bass. Open ears!
Monday, 14 May 2018
Applaus 2018
Black Box im Gasteig
Tilbury, Prevost & Vandermark
The Core of AMM meets Vandermark
John Tilbury, piano / GB
Ken Vandermark, saxophones / US
Eddie Prevost, drums / GB
It is an encounter of two musical worlds which despite their differences share a mindset of radical innovation.
Pianist John Tilbury and drummer Eddie Prevost, both from Britain, are the current nucleus of the epoch-making improv ensemble AMM.
AMM was founded as early as 1965 by saxophonist Lou Gare, guitarist Keith Rowe and Eddie Prevost. In 1980 John Tilbury joined the group. The musicians participating in AMM developed a language and and performance attitude, that went well beyond anything possible at that time in New Music and Free Jazz.
As a consequence, the group became a paragon for improvisors of diverse backgrounds, ranging from Rock to Classical, and for the emergence of a unique form of free improvisation, comparable maybe only with the improv ensemble Musica Elettronica Viva formed around the same time by Alvin Curran, Frederic Rzewski and Richard Teitelbaum.
AMM is always acting as a collective. Despite the importance of individual voices for the process of interactive music making, the result remains strictly focused on collective improvisation and not on a series of solo contributions.
US Jazz saxophonist und clarinetist Ken Vandermark manages to conform to this approach, while at the same time substantially adding to the proceedings due to his multi-stylistic interests, his openness for new sounds and his tendency for breaking down conventions.
There is a long list of musicians who have recorded albums with him, including Hal Russell, Paul Lytton, Joe Morris, Peter Brötzmann and Paul Lovens. Many ensembles came together under his leadership, for instance Free Fall, Free Music Ensemble, Territory Band (a large orchestra with chaning lineup), Rara Avis and – probably best known - the Vandermark 5.
Saturday, 21 April 2018
Subsonicspace 2018
MUG - Munich Underground at Einstein Kultur
Akira Sakata Trio: ARASHI!
Paal Nilssen-Love, drums / NO
Johan Berthling, bass / SE
Akira Sakata, saxophone / JP
Arashi means «storm» in Japanese, and this word is indeed apt to describe the ultra-powerful music of the trio put together by the legendary saxophonist and clarinettist Akira Sakata. Akira Sakata ist vielen noch als Teil des Yosuke Yamashita Trios aus den Siebziger Jahren in Erinnerung.
Accompanied here by a diabolical, Nordic rhythm, Akira Sakata is capable of unleashing free sparkling illuminations or more intimate, but always personal, atmospheres. Arashi alternates thunderstorms in the form of rapid and intense free assaults, with moments of pure contemplation (the calm after the storm ?) where Akira Sakata uses a warm and moving clarinet, or some powerful throat singing, by which we are instantly transported. An exceptional trio.
Johan Berthling ist Bassist im Spannungsfeld zwischen europäischem Free Jazz und experimentellem Rock unterwegs und hat mit so ziemlich allen nordeuropäischen Schwergewichten dieser Genres zusammengespielt, wie zum Beispiel Sten Sandell, Christer Bothén, David Stackenäs, Raymond Strid. Er ist Mitbegründer von so energielastigen Gruppen wie Fire!, Nacka Forum und Tape, und ist von daher eine logische Ergänzung zu Paal Nilsson-Love und Akira Sakata im Power-Trio Arashi.
Paal Nilssen-Love ist laut downbeat (Dan Quelette) "einer der innovativsten, dynamischsten und vielseitigen Schlagzeuger der aktuellen Szene". Zu einem guten Teil ist dies seiner Arbeitsweise geschuldet: Er ist gleichzeitig in einer Vielzahl von Bands und Projekten aktiv, die als gemeinsamen Nenner jedoch immer ein hohes Energie- und Dynamik-Niveau aufweisen. Genannt seien hier stellvertretend The Thing, Territory Band, Atomic, Sten Sandell Trio und vor allem das Brötzmann Chicago Tentet, aber auch Duos mit Ken Vandermark, Mats Gustafsson oder Lasse Marhaug. Die Basis wurde schon in seiner Jugendzeit gelegt. Er wuchs als Sohn eines Schlagzeugers und Jazzclub-Betreibers im norwegischen Stavanger auf und kam schon früh mit Saxofonist Frode Gjerstad in musikalischen Kontakt.
This concert, like the one by Free Jazz icon Peter Brötzmann eighteen months ago, promises to be an event full of energy and power. It is not by chance, that in 2011 Brötzmann insisted on inviting Akira Sakata for his anniversary festival in Wels as one of a number of prominent Japanese guests that he had encountered during his many tours through Japan.
The Viennese label Trost Records has published the LP/CD "ARASHI" (TR130, 2014) as well as a CD of a live concert in 2017 at the Fylkingen, Stockholm: ARASHI - Trost Live Series (TLS001).
Tuesday, 17 April 2018
Piano 2018
MUG - Munich Underground at Einstein Kultur
(ein)blicke – TanzMusikPerformance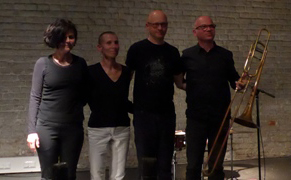 Hildegard Kleeb, piano
Fine Grafenhorst, dance
Christian Wolfarth, percussion
Roland Dahinden, trombone
Three musicians and a dancer encountering an unknown room.
Who are they? What kind of room is it that encloses them? Does it provide shelter? Does it create space for other rooms?
Four different journeys and biographies, four performers meeting and opening for insights (Einblicke) into their individual perspectives and perceptions.
Specifically for this concert, Fine Grafenhorst (née Kwiatkowski) has developed this project in collaboration with her Swiss colleagues.
Fine Grafenhorst: "Frequently I get together with artists from the fields of contemporary dance, music, visual arts and acting. These encounters reflect a moment full of intensity and excitement, attraction and repulsion, entailing to a large extent the risk of failure but also the possibility of exhilarating ecstasy or silence. A kind of conversation able to grasp very directly and deeply the essence of what cannot be said in words."
Fine Grafenhorst was a guest of Offene Ohren in 2011 with her multimedia-project Cri du Coeur, and Christian Wolfarth visited us late last year with Der Verboten. It is the first time we can welcome pianist Hildegard Kleeb and trombonist Roland Dahinden.
Roland Dahinden studied trombone and composition at Musikhochschule Graz with Erich Kleinschuster and Georg Friedrich Haas and at Scuola di Musica di Fiesole in Florence with Vinko Globokar. From 1992-95 he was an assistant to Alvin Lucier and Anthony Braxton at the Wesleyan University, Connecticut. In 2002 he earned a PhD at Birmingham University, England, studying withVic Hoyland.
Posaune und Komposition, zunächst an der Musikhochschule in Graz bei Erich Kleinschuster und Georg Friedrich Hass und bei Vinko Globokar an der Scuola di Musica in Fiesole bei Florenz. Von 1992-95 war er Assistent von Alvin Lucier und Anthony Braxton an die Wesleyan University in Connecticut. 2002 schloss er ein PhD Program bei Vic Hoylund an der Birmingham University (GB) mit dem Doctor of Philosophy in Music ab.
As a trombonist he is at home in improvised music and Jazz as well as New Music. He has performed in a duo with his wife, the pianist Hildegard Kleeb, since 1987..
Hildegard Kleeb studied piano at the Zurich Music School and later with Eric Gaudibert in Geneva and Jürg Wyttenbach at the City of Basel Music Academy. She is an improvisor and performer of New Music. She stayed at Wesleyan University from 1992-1995 together with Roland Dahinden and worked with Anthony Braxton, Alvin Lucier and Christian Wolff.
Roland Dahinden and Hildegard Kleeb have been on concert tours throughout Europe as well as in America, Africa and Asia.
They share a fondness for visual arts. Among Roland Dahinden's compositions there are sound installations and sound sculptures.
In an article for Zentralschweiz am Sonntag, Hildegard Kleeb has described her approach: "I imagine the grand piano as standing and sounding in space. The piano as a kind of sonic mass on which I work like a sculptor."
We are looking forward to new insights!
Friday, 06 April 2018
Subsonicspace 2018
MUG - Munich Underground at Einstein Kultur
Double Dansk Solo
> Measures
> Frogs /Toads
Henrik Pultz Melbye, reeds
Adam Pultz Melbye, bass
This double feature is a kind of family enterprise by the Pultz Melbye brothers from Denmark. Adam the bassist has already impressed us back in 2015 as part of the Lotte Anker Trio with his intensity, accuracy and zest.
Adam Pultz Melbye, who has lived in Berlin since 2013, comes back as a soloist with his project Measures. His diligently built up musical structures are informed by an appreciation of precision and small details as well as a jaunty playfulness and an adventurous search for new sounds – whether bowed, plucked or percussive.
Eyal Hareuveni, on allaboutjazz.com, wrote about his second solo album Measures (Dez. 2017): "Melbye, gifted with masterful and highly creative command of the double bass, uncovers the insides of this massive instrument in a series of nine concise improvisations. […] "That" is a wise and playful improvisation that employs the resonating wooden characteristics of the bass and on "Zossener" it sounds as if the bow is the main instrument and the double bass is employing various extended techniques on the bow. "Knee Left" returns to the opening improvisation, applying similar methods and reaching a satisfying closure in this arresting journey. Highly impressive."
His younger brother Henrik lives in Copenhagen and is also working in the experimental and improvised vein. His first activities included the direction of an avant-garde rock band.
In 2011 he graduated from The Academy of Music in Esbjerg with a Master in Music. In 2017 he continued studies at the Advanced Postgraduate Diploma programme at the Rythmic Music Conservatory in Copenhagen.
In his solo program Frogs/Toads he plays mainly acoustic tenor saxophone, focusing on spatial interactions and the acoustic conditions in spaces of the most diverse dimensions.
Short and precise improvisations are played in a highly intense and disciplined way. They document Henri Melbye's complex and rich vocabulary as well as his mastery of the instrument, at times even achieving multiharmonics by the use of breathing techniqe and feedback.
"He's exploring the possibilities of the saxophone with minimalistic tonepaintings and sound-wrenching tensions. It's challenging, varied and exciting." Niels Overgård, Jazznyt.com
Tuesday, 20 March 2018
Subsonicspace 2018
MUG - Munich Underground at Einstein Kultur
Trio Mukti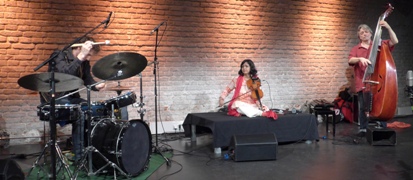 Emil Gross, drums
Anupriya Deotale, violin
Paul Rogers, bass
The Mukt trio is, by their own account, a project dreamed up by the cosmopolitan Udo Preis from Southern Burgenland, who acts as an enterprising organiser for the improv/Jazz festival Limmitationes at Rudersdorf. The rhythm section, also known as Peal duo, has been a stable fixture there for years. At one of the workshops they met Anupriya Deotale and formed this trio that manages to merge in a perfect way elements of classical violin playing and traditional improvising methods from India with European free improvisation.
Anupriya Deotale has done her M.A.(Master of Arts) and M.Mus.(Master of Music) both in Violin with a gold medal from Khairagarh University and Vikram University Ujjain. She has founded Ameer Khusro Centre For Music to promote the awareness,the knowledge and the cultural value of Indian Classical Music among the youth of India.
She has a unique style of her own, on the lines of fusion in which she blends the elements of "Gayaki" i.e. vocal rendering and "Tantarakari" i.e. instrumental rhythmic patterns. Anupriya Deotales Violinimprovisationen lassen klar ihre Wurzeln in der reichen indischen Musiktradition erkennen.
At the same time, she is always looking for challenging musical experiments. In the trio with British bassist Paul Rogers and Viennese drummer Emil Gross, she succeeds in creating a unique amalgamation of experimental harshness and spiritual depth.
Paul Rogers has been on the wish list of Offene Ohren for a long time. He is mostly known for his long-standing tenure in the free improv quartet Mujician of Keith Tippett. A player of finesse and feeling, he has appeared on dozens of albums, performing also with Mike Westbrook, Elton Dean, Paul Dunmall, John Stevens, Michel Doneda, Tony Levin, Alan Skidmore, Gerry Hemingway, Don Byron, Tom Cora, Louis Sclavis, Evan Parker and Ivo Perelman, to name a few.
Emil Gross is an extraordinary drummer of the younger generation who has played in his own groups alongside Jazz luminaries like Oliver Lake and Joe Fonda and has also instigated multiple cross-over projects with promising young musicians and dancers.
Wednesday, 14 March 2018
Subsonicspace 2018
KIM im Einstein Kultur
Duo Pip
Torstein Lavik Larsen, trumpet / NO
Fredrik Rasten, guitar / NO
Torstein Lavik Larsen, trumpet, and Fredrik Rasten, guitar, already visited Offene Ohren in 2016 as part of the Norwegian OKER quartet.
Pip is a Norwegian acoustic duo based in Oslo. They started playing togheter in 2006 and have since then explored a variety of different musical directions. The duo is currently working with free improvisation. They explore the possibilities of the acoustics of trumpet and guitar with a focused sense of intonation and timbre as a point of departure. They create gradually developing textures in an intermediate state between static and organic.
After the limited edition CD Pip on the record label ØS in 2015, they released their official debut album Pip on the portuguese label Creative Sources in 2016 (CS 348). Just listen in: Pip2 or Pip on soundcloud. This Is Jazz Today wrote: "[…] the simple quality of the compositions/improvisations and the control in the delivery are absolutely excellent. It's amazing what you can do with two acoustic instruments."
The duo has played a large number of concerts in Europe.
Torstein and Fredrik also play together in the band Oker, and in the quartet Volumes with Magda Mayas on prepared piano and Isak Hedtjärn playing clarinet and sax. They have both many other musical projects as well, bands such as Skadedyr, Gismervik/Rasten/Garner, Torstein Ekspress, View from Nowhere and Torg, to name a few and are involved in projects with non-music artists, currently for example a live visual project with the danish duo Manuals.
Saturday, 03 March 2018
Applaus 2018
MUG - Munich Underground at Einstein Kultur
Blume - Delius - Kaufmann - Manderscheid

Achim Kaufmann, piano
Tobias Delius, reeds
Dieter Manderscheid, bass
Martin Blume, drums
After a concert of the quartet in 2016 at the Kunstmuseum Bochum, Nina Schröder wrote in the WAZ: "The musicians managed to craft transitions of the most diverse sonic qualities ranging from percussive noise or dashing powerplay to a subtle, minimalist pianissimo. The players' broad array of sounds is a testament to their astounding mastery!"
Later this year a recording of a 2016 concert at the Cologne Loft will be out under the title Frames & Terrains on NoBusiness Records (NBLP 114); a sample can be heard here.
Well-traveled British/German saxophone and clarinet player Tobias Delius, recipient of the Dutch Boy Edgar Prize in 2004, has lived in Amsterdam for an extended period and is strongly affiliated with musicians of the local improv scene like Han Bennink, Tristan Honsinger, Wilbert de Joode and the ICP. In recent years he has been living in Berlin.
With playfulness and charm as well as technical prowess, Tobias Delius has excelled in multiple projects, whether in his own quartet or as a partner of Georg Graewe, Steve Lacy, Bill Frisell, Louis Moholo, Cor Fuller and Ray Anderson.
Achim Kaufmann has counted among the most exhilarating and inspiring personalities of the European Jazz and improv scene for many years. His music shows harmonic subtlety and structural depth. By way of reflected examination of the tradition he has evolved, as a pianist and as a composer, a finely nuanced, contemporary musical language consisting in equal parts of poetry, energy and abstraction. This earned him the renowned Albert Mangelsdorff Prize from Germany.
Dieter Manderscheid achieved his first success with the Wittek-Kaiser-Manderscheid Trio. He has since gone beyond the circle of the Cologne Jazzhaus and become one of the most sought-after freelance bassists. He collaborated with a broad range of musicians, including Harry Beckett, John Betsch, Peter Brötzmann, Phil Minton, Radu Malfatti, Michael Moore, Barre Phillips, Frank Samba, Günther Sommer, Georg Graewe, Klaus König, Kenny Wheeler and Dirk Raulf. "His playing is addictive," enthused Ekkehard Jost.
Drummer Martin Blume "is among the leading representatives of European improvised music, commanding a virtually compositional sensibility that shows a close association with New Music." US Magazin Signal to Noise.
Since the early 80's he has collaborated in an international avant-garde context of Jazz, improv and New Music in diverse formations with the likes of Peter Brötzmann, Peter Kowald, Johannes Bauer, Phil Minton, Lol Coxhill, Georg Gräwe, Jim Denley, Luc Houtkamp, Phil Wachsmann, John Butcher, Thomas Lehn, Xu Feng Xia, Ken Vandermark and Kent Kessler.
Friday, 24 February 2018
Subsonicspace 2018
MUG - Munich Underground at Einstein Kultur
Mein Freund der Baum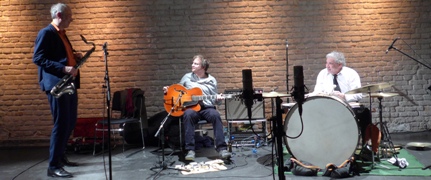 Rudi Mahall, bass clarinet
Flo Stoffner, guitar
Paul Lovens, drums
"There are combinations with a peculiar character which often in itself arouses interest." Fitting as this comment may seem for this trio, this quote is how the ducal personal cook F. G. Zenker introduced a recipe for a bread cake ....
Mein Freund der Baum (My Friend the Tree) brings together three generations of improvisors. Musically and personally, the three members are on friendly terms. Paul Lovens and Rudi Mahall know each other from groups like Globe Unity Orchestra or Aki Takase's band. Paul Lovens and Flo Stoffner have been affiliated for ten years by their work in a trio with Martin Schütz as well as the trio Die Öfen that invited Rudi Mahall as a guest for last year's tour.
Mein Freund der Baum is a group with a unique sound revealing new aspects of improvisation.
Taken from recordings made at two 2016 concerts in Zurich and Lisbon, the CD Mein Freund der Baum was published by the Zurich-based label WideEarRecords as WER032. The tracks are called "Mein," "Freund," "Der," and "Baum." In concluding his review on freejazzblog.org Martin Schray writes: "The album resembles a chamber-music-like update of the Evan Parker/Derek Bailey/Han Bennink album The Topography of the Lungs, reflecting this cutting edge free improv classic's ultra-concentrated force and controlled energy. It's full of excellent musicianship and unexpected twists and turns. Really recommended."
Saturday, 03 February 2018
Subsonicspace 2018
MUG - Munich Underground at Einstein Kultur
Beat The Odds
Elisabeth Coudoux, cello
Pascal Niggenkemper, bass
Ricardo Jacinto, cello
Félicie Bazelaire, bass
"Beat the odds" a double dialog of two cellos and two basses arranged in a square. Strings struck by a variably controlled propeller driven by an engine. An organic interaction of pulsing organisms (beats), stationary sound planes (drones) and personal playing techniques eliciting a fascinating sonic cosmos.
German-French bassist and composer Pascal Niggenkemper, "one of the most adventurous double bassists of the current music scene" according to New York City Jazz Records and a "genius for sound exploration" according to the Chicago Reader, creates his music between the poles of improvisation and composition using his own language. His work includes solo playing (changing the instrument's acoustics by means of preparation) and the use of engines exploring the interaction between man and machine. He already performed at Offene Ohren with the Trio BaLoNi.
French bassist and cellist Félicie Bazelaire is a member of Onceim, of the Ensemble Intercontemporain and the Hodos Ensemble and has been performing works by composers like Cage, Feldman and Scelsi as well as by composers/improvisers like P. Badaroux, P. Bosshard, B. Denzler and D'incise. She has received the cello award of Reims Conservatory, has a master's degree for double bass and education from the Paris Conservatory and holds a Certificat d'Aptitude. She is currently teaching at the Conservatories of Aubervilliers-La Courneuve and Orsay.
Elisabeth Coudoux is a cellist working at the interface of different genres: free improvisation, experimental, New Music and Jazz. Building on her classical education, she studied Jazz with Frank Gratkowski and Dieter Manderscheid in Cologne. Apart from her own projects (including Emissatett that could be heard at Offene Ohren in 2016), she plays in many ensembles and in interdisciplinary collaborations with dancers, visual artists and writers. She is an initiator and a member of IMPAKT, a newly founded collective for free improvisation in Cologne.
Lisbon-based artist and musician Ricardo Jacinto has a strong focus on the relationshipe beween sound and space. He is currently gaining his doctorate at the Sonic Arts Research Center in Belfast. He frequently collaborates in interdisciplinary projects with other artists, musicians and architects and has founded the cultural organization OSSO, a collective of musicians, dancers, graphic artists, writers, filmmakers and performers.
Ricardo Jacinto has a degree in architecture from the Lisbon University and has attended graduate courses at the School of Visual Arts in New York. Additionally, he has enjoyed a musical education at the Hot Clube de Portugal and the Academia de Amadores de Música in Lisbon.
Friday, 19 January 2018
Applaus 2018
MUG - Munich Underground at Einstein Kultur
Urs Leimgruber / Jacques Demierre - 6ix

Jacques Demierre, piano / CH
Dorothea Schürch, singing saw, voice / CH
Urs Leimgruber, saxophone / CH
Roger Turner, drums / GB
Hannah Marshall, cello / GB
Thomas Lehn, analog synthesizer / DE
It is nine years ago that 6ix has visited Offene Ohren for the last time, then still under the name SIX. Now, thanks to receiving the APPLAUS award (Initiative Musik) for the third time for our concert program, we can bring them back.
Since then, there have been two lineup changes: instead of Charlotte Hug (viola and voice) and Anne Gillot (bassoon and recorders) it is cellist Hannah Marshall and percussionist Roger Turner who help fashion the fragile acoustics of this experimental sextet, that for ten years has been reinventing itself consistently for every performance.
Full of reflection, the music of 6ix is pushing the limits and at the same time building on the energetic, acoustic and architectonic characteristics of the concert room. Evolving with the room's dynamics, sounds, noises and silences emerge and interact.
6ix is made up of six musicians who rank among the leading protagonists of the free improv scene in Europe:
Jacques Demierre's website offers various audio samples (Uncool 2011).
The tour of 6ix is supported by the Swiss Arts Council

and the Fondation Suisa
.
>> Offene Ohren e.V. received Federal Music Award APPLAUS 2017 for its outstanding live music program
On October 25, 2017, the Federal Prize APPLAUS was awarded for the fifth time in Dresden by the Minister of State for Culture and the Media, Prof. Monika Grütters, to independent music clubs and organisers for their excellent live music programs. We were in attendance.
For its "outstanding live program", Offene Ohren e.V. has received this award for the third time after 2014 and 2016. We are highly honored and encouraged to continue in our course. With the prize money, we will continue to offer you exciting concert experiences in 2018.
.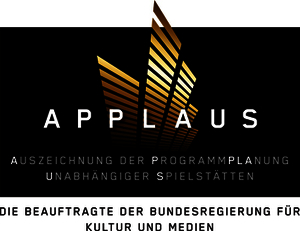 The Venue Programme Award APPLAUS – Auszeichnung der Programmplanung unabhängiger Spielstätten - is realised by the Initiative Musik, with the collaboration of the Bundeskonferenz Jazz (BK Jazz) and the LiveMusikKommission, Verband der Musikspielstätten in Deutschland e.V. (LiveKomm). The bulk of the project's funding is provided by the German Federal Commissioner for Culture and Media.
Concerts 2017
Saturday, 16 December 2017
Subsonicspace Series 2017
MUG - Munich Underground at Einstein Kultur
Radio Tweets – Ulher-Wassermann Duo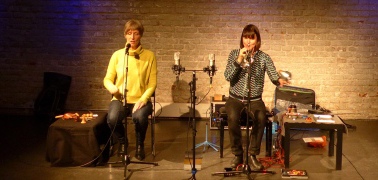 Ute Wassermann, voice, bird whistles
Birgit Ulher, trumpet, radio, speaker, objects
Radio Tweets is a collaborative project of Ute Wassermann and Birgit Ulher which is focused on the preparation of trumpet and voice.
Birgit Ulher distributes radio noise inside the trumpet using a trumpet mute with extended speakers. Being transmitter and receiver at the same time the trumpet provides an acoustic chamber and becomes a modulator for radio noise. In addition Birgit Ulher holds metal sheets in different ways against the bell of the trumpet. With this extension of her instrument she creates various multiphonics and splitting - sounds.
Ute Wassermann defamiliarises the sound of her voice using a variety of palate whistles and bird whistles. She creates a hybrid vocal instrument with multiphonic, oscillating and swirling tone - colours and explores the multifaceted area between voice and whistle-instrument.
Radio Tweets showcases the acoustic edge of instrumental trumpet and vocal interplay. Both musicians create monolithic sound fields with complex inherent structures ranging from monochrom white noise to superimposed dense textures.
Audiolicious sounds great.
'One can do nothing else but listen closely to this music and be sucked into the sound world of these two musicians. Open up your ears and mind and something beautiful will unfold.... Excellent work'. - Frans de Waard, Vital Weekly.
Thursday, 07 December 2017
Piano Series 2017
MUG - Munich Underground at Einstein Kultur
Tobel
Reinhold Friedl, piano / D
Franck Vigroux, electronics / F
TOBEL - a meeting of two universes: Reinhold Friedl and Franck Vigroux, two musicians addicted to a real contemporary approach, researching the core of sound. Reinhold Friedl with a purely acoustic instrument, his highly acclaimed inside-piano playing, Franck Vigroux with radical electronics, the objective of the duo is nothing else than the mergence of those two opposite sound worlds.
The first collaboration happened in 2013 at Paris. Now, four years later, the MUG will be the ideal space for their latest intensive Sound Researches.
Most of the people will probably associate the pianist, performer and composer Reinhold Friedl with the music ensemble "Zeitkratzer", all the more as there will be a concert performance "The Ocean is closed" at the Munich Kammerspieleon on 02 and 03 December.
The main focus of Reinhold Friedl's work is the inside-piano. He played all respective literature using inside-piano techniques and released several articles in this field.
As pianist and composer, he has worked with musicians and composers such as Keiji Haino, Phill Niblock, Masami Akita (better known as Merzbow), Mario Bertoncini (nuova consonanza), Lou Reed.
As composer and improviser, Franck Vigroux lives in a universe where improvisation, noise, hörspiel, contemporary music, industrial and electroacoustic meet. On stage he can play many different roles: guitar player, turntablist, revox manipulator, electronic performer.
Franck Vigroux performs solo or collaborates for live acts with musicians such as Elliott Sharp, Zeena Parkins, Mika Vainio, Joey Baron, Bruno Chevillon, Marc Ducret.
He founded his own label D'Autres Cordes and the Compagny D'autres cordes dedicated to performing arts.
Wednesday, 22 November 2017
Subsonicspace Series 2017
Ampere, Muffatwerk
The Malta Sessions – Houtkamp & Buder
Luc Houtkamp, saxophones / NL, Malta
Hannes Buder, guitar / D
The Malta Sessions, a duo CD recorded in June 2016, gives an idea of the range of musical expressions this duo offers.
Luc Houtkamp, it's been almost four years since he gave a concert at MUG (with John Russell and Martin Blume), shines with a variety of playing techniques on various saxophones and clarinets. Hannes Buder knows how to make his guitar sound like a Japanese koto in a moment, the next moment we hear a percussion solo, a circular saw or a meditative tapestry of sound.
Luc Houtkamp (born 1953 in Den Haag, The Netherlands) is a composer who bridges the gap between different worlds of music.
Having a background in jazz and improvised music as a saxophone player, his musical goal is to establish a continuum between improvisation and composition in which the difference between the two dissolves.
With the aid of computers and live electronics as well as various forms of music notation his compositions are highly personal in both sound and concept. Stylistic freedom is not a post-modern cliché, but based on his belief that musical style is secondary in importance and they're to serve the expressive quality of the music itself. His main interest in his pieces is the way in which the musicians play together, and how this can be directed by means of composition and the use of computers.
Hannes Buder (born 1978 in the former GDR) is a musician, improviser and composer in the field of experimental music. His works concentrate on issues of movement, authenticity, intuition, minimalism, density and slowness.
He studied guitar at the Carl Maria von Weber Conservatory in Dresden and the Franz Liszt Conservatory in Weimar.
Hannes Buder's current projects include the bands 'Zug Zug' with Todd Capp and Andrew Lafkas, 'Gravity' with Hannes Lingens and Andrew Lafkas, the duo with Luc Houtkamp and his solo project. Beyond that he has collaborated with Audrey Chen, Tony Buck, Audrey Lauro, Hilary Jeffery, Mike Majkowski, Matthias Bauer, Steve Heather, the Berlin Improvisers Orchestra and many others.
Hannes Buder has also composed, improvised and recorded music for different dance (Oxana Chi, Judith Sanchez Ruìz), theater (Jörg Mihan, Johannes Maria Schmit) and film projects (Barbara Lubich, Annick Gaudreault). He's been working temporarily as a teacher/workshop leader at different festivals, music schools and with prisoners in jail.
Saturday, 18 November 2017
Piano Series 2017
MUG -
Munich Underground at Einstein Kultur
Der Verboten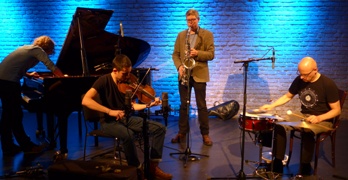 Raphael Loher, piano / CH
Frantz Loriot, viola / F
Antoine Chessex, saxophone / CH
Christian Wolfarth, perkussion / CH
Der Verboten is a further development of the "Treffpunkt" project, a musical meeting of different nationalities and different backgrounds like classical, noise, minimalism or theater, with the goal of a sound synthesis.
The first "Treffpunkt" (the German word for "meeting point") took place in December 2013 at the Superflux Festival in Tours, France. Number two was created in 2015 under the Name 会場 (Kaijō, Japanese for "Treffpunkt"). The third "Treffpunkt" @ Festival Météo - Mulhouse, 2016 can be heard on the internet as a YouTube video: https://youtu.be/NK9I_t1Fy6E. The Open Ears in Mulhouse were enthusiastic about the music.
So now number four of the "Treffpunkt" project in Munich: As the three previous quartets it´s formed around the fixed pair of French violist Frantz Loriot and pianist Cédric Piromalli. The Swiss pianist Raphael Loher performed at MUG as substitution for Cédric Piromalli. As in Mulhouse percussionist Christian Wolfarth and saxophonist Antoine Chessex are in attendance.
Christian Wolfarth comes from jazz and improvisation, with interdisciplinary excursions in the direction of theater, dance, video and literature, and is also a busy soloist. Antoine Chessex is a composer, sound artist and researcher whose works assume a wide diversity of forms spanning compositions for ensembles, solo performances, sound installations and transdisciplinary projects.
In Mulhouse, the basic concept of Der Verboten was the slow transition from acoustic to (electronically) amplified music, a sort of sound-zoom from analog to digital. In this conert the quartet will deal especially with the spatial aspects at the MUG.
By the way, the name of the band is as random as deliberately absurd: In the run-up to the Mulhouse concert there should be no communication about the concept and the contents of the project.
Tuesday, 31 October 2017
Subsonicspace Series 2017
Little Concert Hall at the Gasteig
Sequoia Bass Quartet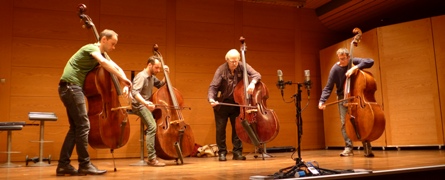 Miles Perkin, bass / CDN
Antonio Borghini, bass / I
Klaus Kürvers, bass / D
Meinrad Kneer, bass / D
The double bass in Jazz and Improvised Music is a strange animal taken for granted and frequently standing out only when it is no longer there. Almost 50 years ago, the legendary Barre Phillips, who has performed several times at Offene Ohren, recorded the first solo album on this instrument, thus contributing enormously to its liberation. Still, a whole quartet consisting exclusively of these unwieldy juggernauts might smack of contrived exotism and gimmickry to some.
Not so. This quartet makes it clear from its very first sounds that it is not about facile acrobatics. On the contrary, the collective of one Canadian, one Italian and two German bassists, founded exactly seven years ago in Berlin at the (yep!) "Big Brothers Doublebass Meeting," is able to prove its maturity based on a common attachment to Free Improvisation and years of cooperation.
The choice of venue was deliberate. Although on first glance, the group might seem ideal for the MUG by way of its focus on low frequencies, it will be found that the Little Concert Hall at the Gasteig is just as suitable to the sonic spectrum if not more so.
Most importantly, the quartet manages to bring together seemingling contradictory elements. Intuitively developing structures, patterns and multiple dialogs, the musicians create a whole that is organic and at the same time highly organized. Spontaneity and precision, originality and discipline are simultaneously evolved and build a solid foundation for a unique experience off the beaten tracks of stylistic convention.
Absolutely riveting!

Saturday, 18 November 2017
Piano Series 2017
MUG -
Munich Underground at Einstein Kultur
Der Verboten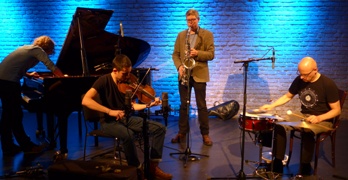 Cédric Piromalli, piano / F
Frantz Loriot, viola / F
Antoine Chessex, saxophone / CH
Christian Wolfarth, percussion / CH
Der Verboten is a further development of the "Treffpunkt" project, a musical meeting of different nationalities and different backgrounds like classical, noise, minimalism or theater, with the goal of a sound synthesis.
The first "Treffpunkt" (the German word for "meeting point") took place in December 2013 at the Superflux Festival in Tours, France. Number two was created in 2015 under the Name 会場 (Kaijō, Japanese for "Treffpunkt"). The third "Treffpunkt" @ Festival Météo - Mulhouse, 2016 can be heard on the internet as a YouTube video: https://youtu.be/NK9I_t1Fy6E. The Open Ears in Mulhouse were enthusiastic about the music.
So now number four of the "Treffpunkt" project in Munich: As the three previous quartets it´s formed around the fixed pair of French violist Frantz Loriot and pianist Cédric Piromalli. As in Mulhouse percussionist Christian Wolfarth and saxophonist Antoine Chessex are in attendance.
Christian Wolfarth comes from jazz and improvisation, with interdisciplinary excursions in the direction of theater, dance, video and literature, and is also a busy soloist. Antoine Chessex is a composer, sound artist and researcher whose works assume a wide diversity of forms spanning compositions for ensembles, solo performances, sound installations and transdisciplinary projects.
In Mulhouse, the basic concept of Der Verboten was the slow transition from acoustic to (electronically) amplified music, a sort of sound-zoom from analog to digital. In this conert the quartet will deal especially with the spatial aspects at the MUG.
By the way, the name of the band is as random as deliberately absurd: In the run-up to the Mulhouse concert there should be no communication about the concept and the contents of the project.
Friday, 20 October 2017
Subsonicspace Series 2017
MUG - Munich Underground at Einstein Kultur
Ninh Lê Quan & Michel Doneda
Michel Doneda, soprano sax / F
Ninh Lê Quan, percussion / F
Holding to the void. Focusing on the moment. Discovering the sound. Listening. Shaping emptiness. No beginning, no end. Listening. Always in a process, always in motion. Fully concentrated on every moment of the processs. Listening. Listening is of the essence.
Let's listen to the listening.
Whereas Lê Quan Ninh came into contact with all important representatives of Free Jazz and the Avant-garde early on, Michel Doneda developed his style and sounds almost exclusively in isolation. For both, it is exciting to reenact the concert situation as part of a continuous process shaped by space, technology, random noises, everyone in the audience and of course the musicians themselves.
Lê Quan Ninh is a classically trained percussionist. He collaborated with many Contemporary Music ensembles and founded the Quatuor Hêlios (1986-2012), a percussion quartet that has performed the works of John Cage amongst other things. He has been active as an improvisor for decades and is part of numerous ensembles, combining electronic and acoustic approaches as well as performance, dance, poetry, experimental films, video and photography. He has released more than 40 CDs and LPs.
Michel Doneda has, in the course of many years, developed one of most extensive and varied vocabularies of Free Improvisation. On his exclusive instrument, the soprano saxophone, he started out with completely independent sonic researches and gradually shifted from Free Jazz to a purely improvised approach with his first self-produced sessions in the 80's. His playing oscillates between lyrical, jaunty as well as harshly eruptive and seemingly uncontrolled sounds, switching within seconds from impromptu melody lines to microscopic splinters or shrieking sirens. His most important long-term partners are singer Beñat Achiary, hurdy-gurdy player Dominique Regef, bassist Barre Phillips, and last not least percussionist Lê Quan Ninh.
Friday, 13 October 2017
Piano Series 2017
MUG - Munich Underground at Einstein Kultur
Satoko Fujii Duo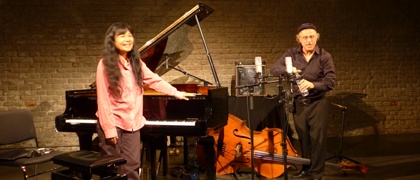 Satoko Fujii, piano / Japan
Joe Fonda, bass / USA
This concert is bound to be one of the highlights of our autumn program: a Japanese-American duo of piano and bass performing with an enormous range and confidence of style.
With more than 80 albums to her credit, Satoko Fujii is by now an icon of the Japanese Free Music scene, seamlessly switching between Classical, Folklore, Jazz, Heavy Metal and Punk; Joe Fonda on the other hand, is more grounded in Jazz, with lyrical, experimental and humorous forays that at times also make use of the flute.
The duo's first CD in November 2015 was initiated by Joe Fonda – and it was this CD that convinced us to have them for a live performance at Offene Ohren.
Now it's up to you to get convinced!

Für sein "herausragendes Liveprogramm" wurde Offene Ohren e.V. mit dem Preis APPLAUS 2016 geehrt. Das freut uns sehr, auch weil wir Ihnen
dadurch dieses Zusatz-Konzert anbieten können:
Friday, 06 October 2017
Applaus Series 2017
MUG - Munich Underground at Einstein Kultur
East-West Trio
Didier Petit, cello, performance / F
Sylvain Kassap, bass clarinet / F
Xu Fengxia, guzheng, sanxian, voice / China, D
The East West Trio, comprised of Xu Fengxia (guzheng, sanxian, voice), Didier Petit (cello, performance) and Sylvain Kassap (bass clarinet), was founded in 2009 during a festival in Hong Kong. The members aim at merging traditional Chinese and European improvised music.
The musicians were inspired by a historical personality, the Italian missionary and musician Théodorico Pedrini, who was sent to China by the Pope in the 18th century and in the course of his work for the Chinese emperor made an important contribution to the cultural dialog between China and Europe.
The trio's music is organized around the Chinese string instrument guzheng, masterly presented by Xu Fengxia. Didier Petit and Sylvain Kassap are seasoned improvisers who are able to break the mold of a normal concert situation by surprising twists and turns. Sometimes the sounds are playful and almost childlike, at other times sharp and vigorous or gentle and meditative.
Xu Fengxia hails from Shanghai. She is classically trained on traditional Chinese instruments like the arched zither guzheng or the long-necked lute sanxian, that is rarely heard in these parts. During the last years, her expressive singing has increasingly come to the fore. She is a pioneer as far as the bringing together of traditional Chinese music with Jazz and improvised music is concerned.
At the start of her career she worked as a soloist with the renowned Orchestra for Chinese Music of Shanghai. After her move to Germany, the encounter with Jazz and improv musicians became a new focus for her. Among countless other collaborations, she worked with the late bassist Peter Kowald, played in Baby Sommer's quartet "Percussion und Strings" and has a new project with Peter Brötzmann.
Didier Petit is a French composer working in the fields of Jazz and New Music. At the age of six he started to play the cello and attended the conservatory later on.
Fascinated by a concert with Michel Portal and Bernard Lubat, he turned to Jazz and improvised music. Initially, he played in Alan Silva's Celestrial Communication Orchestra. After founding the In Situ label in 1990, he worked with among others Marilyn Crispell, Malcolm Goldstein, Carlos Zingaro, Jacques Di Donato, Fred Van Hove, Lê Quan Ninh – to name only those, who have appeared at Offene Ohren concerts.
Sylvain Kassap (clarinets, alto saxophone, percussion, keyboards, compositions) is a French musician working in the fields of Creative Jazz and New Music. His style merges diverse influences, ranging from Free Jazz to Imaginary Folklore and tradional music from the Balkans as well as regions outside Europe.
Sylvain Kassap studied musicology and played with the pioneers of new French Jazz during his time at college. After his graduation he got together with international musicians like John Surman, Barre Phillips, Stu Martin. He founded the ensembles Molto Mobile and Saxifrages! with Claude Barthélemy. In the course of his career he worked with Phil Minton, Sam Rivers, Yves Robert, Michel Godard, Steve Lacy, Joe McPhee and many others.
Continuing his work as a performer of New Music, he also composes music for dance, theater and films.
Saturday, 17 June 2017
applaus series 2017
MUG at Einstein Kultur
Feichtmair - Harnik - Polaschegg

Elisabeth Harnik, piano / A
Tanja Feichtmair, saxophone / A
Nina Polaschegg, bass / A
Vigorous intensity, bright expessivity and abstract deceleration are what we can expect when three musical personalities of this caliber come together: Tanja Feichtmair, saxophone, Elisabeth Harnik, piano and Nina Polaschegg, bass.
Tanja Feichtmair lives in Ulrichsberg. She improvises solo and in groups, reflecting the evolution of American free jazz as well as the timbral esthetics of European origin.
Elisabeth Harnik lives in Styria, working as a composer and performer of New Music, contemporary jazz and improvised music.
Nina Polaschegg lives in Vienna working as an independent music publicist and scholar. As a bassist, she focuses mainly on free improvisation but is also regularly concerned with the historical performance practice of her instrument.
All of them already appeared at the MUG, and now we can hear them together for the first time. A real highlight!
... and one made possible only by APPLAUS 2016 (Auszeichnung der Programmplanung unabhängiger Spielstätten), an award of the Initiative Musik in collaboration with the BK Jazz (Bundeskonferenz Jazz) and the LiveKomm (LiveMusikKommission).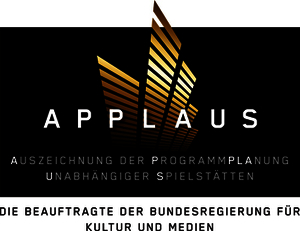 For its "outstanding live program", Offene Ohren has received this prize for the second time after 2014, and we are highly honored and encouraged to continue in our course. At this point, we'd like to say thank you to the Initiative Musik and the the Federal Commissioner for Culture and Media.
Saturday, 20 May 2017
piano series 2017
MUG at Einstein Kultur
Julie Sassoon & Willi Kellers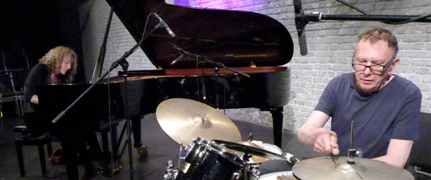 Julie Sassoon, piano
Willi Kellers, drums
This duo forms a transcendent whole of almost meditative improvisations. Lyrical melodies and percussive eruptions, overlaid with rhythms à la Bartok or Stravinsky, alternate with jazz elements, African wildness as well as very low athmospheric sequences on the threshold of inaudibility.
A trained classical concert pianist, Julie Sassoon has come to improvised music by way of jazz. In 2009 she moved from London to Berlin and has since played regularly with many musicians that have appeared at Offene Ohren, including Tom Arthurs, Yorgos Dimitriadis, Miles Perkin and Paul Schwingenschlögl. She explored her German Jewish roots on her own solo CD.
Willi Kellers played the MUG's opening concert in February 2011 together with bassist Chrisoph Winkel and English trombone legend Alan Tomlinson. Peter Brötzmann, Ruf der Heimat and Boom Box are among the cornerstones of his musical activities. He has performed with countless jazz and improv players, Keith Tippett and Marylin Crispell among them. With her tremendous emotionality, Julie Sassoon easily stands up to comparison with those two.
A truly outstanding duo!
Friday, 12 May 2017
piano series 2017
MUG at Einstein Kultur
Revelation - Duo Fernández-Azaiez
Agustí Fernández, piano (Spanien)
Yasmine Azaiez, violin (Tunesien)
A year ago, these two musicians got together for the first time. Different cultures, generations, instruments and musical evolutions are the backdrop for a thrilling dialog by two uncompromising free spirits. Listeners witnessing their performance will soon forget about any classically informed interaction of these two instruments and discover fascinating and unheard of new sound worlds.
It is no longer necessary to present the outstanding pianist and improvisor Agustí Fernandez in Munich and, particilarly, at the MUG, since his memorable performance at the 100th Offene Ohren jubilee concert, now documented on a riveting CD.
After a subsequent duo with Mats Gustafsson, one of the key improvisors on the saxophone alongside Coltrane, Evan Parker and John Butcher, he now presents a fresh voice on the violin: Yasmine Azaiez.
Yasmine Azaiez began to play the violin at the age of four and is now, after many years of classical training in England, USA and Australia, working mainly as a soloist at the interface of jazz, classical and oriental music.
In their duo the two create a music that needs no explanations, allowing listeners to individually decipher its message. Still, their always is a complex and compellingly recognizable narrative structure of massive arco work, changing clusters, microscopically shifting sound particles and restlessly progressing lines of development.
A real highlight!
Thursday, 27 April 2017
subsonicspace 2017
KIM at Einstein Kultur
E Pericoloso Sporgersi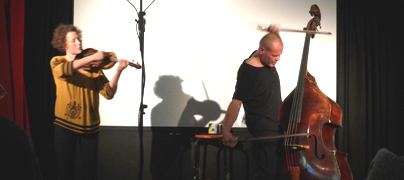 Gunda Gottschalk, violin / D
Peter Jacquemyn, bass / Belgium
This Belgian-German duo has been honing its dialog of strings for a long time.
Gunda Gottschalk, coming from a classical background, at home in the "Global Village" and deeply immersed in the galaxy of free improvisation after her encounter with Peter Kowald, is featured throughout Europe at festivals of contemporary and improvised music.
With Peter Jacquemyn she has found a congenial partner. The Belgian bassist is working in visual arts, creating some of his wooden sculptures with a chainsaw. He brings the same kind of unfettered energy to his concerts.
Since the publication of their CD É pericoloso sporgersi in 1999 we have been thinking about bringing this duo to Munich – another long-term project finally realised.
Wednesday, 26 April 2017
subsonicspace 2017
MUG at Einstein Kultur
Leimgruber-Minton-Turner: The Spirit Guide Extended
Roger Turner, drums / GB
Phil Minton, voice / GB
Urs Leimgruber, saxophone / CH
These three musicians have appeared repeatedly at Offene Ohren already and at other venues in Munich. Phil Minton for instance was a guest of the ICI Ensemble in November. Roger Turner's last stay at the MUG was with the quartet WTTF in 2014. And Urs Leimgruber came to see us for the second time with Barre Phillips and Jacques Demierre in late 2015; a logbook of the trio's jubilee tour entitled Listening has been issued on the label Lenka lente.
The duo Minton-Turner – for the first time documented with a 1993 London gig on the legendary CD Dada da – has been in existence for more than three decades. More recent is the English drummer's collaboration with Swiss Urs Leimgruber documented on the CD The Pancake Tour of 2011, already showcasing the multiply fractal shaping of the saxophone voice characteristic of his solo playing.
We were talking with both duos and it did not take long for the idea of a trio Leimgruber-Minton-Turner to be born. Of course, they will visit the MUG on their debut tour.
An event not to be missed!
Saturday, 18 March 2017
subsonicspace 2017
MUG at Einstein Kultur
Marne/Seine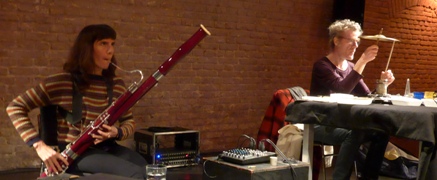 Dafne Vicente-Sandoval, fagot / F
Pascal Battus, percussion / F
It is between Marne and Seine, between electronics and acoustics, that the sonic worlds of these two French sound artists oscillate.
Pascal and Dafne create vulnerable, ephemeral soundscapes summoning calm as well as energetic moments between melody and noise. They are constantly balancing on the fine line between supreme tension and total relaxation without ever resorting to conventional musical patterns.
Friday, 03 March 2017
subsonicspace 2017
MUG at Einstein Kultur
Duo Kocher-Yamada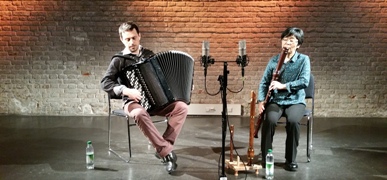 Jonas Kocher, accordion / CH
Eiko Yamada, recorder / Japan-D
This duo is characterised by two things: high commitment and a great deal of curiosity, alternating between subtle sounds and vigorous eruptions.
Jonas Kocher and Eiko Yamada are on a continuous quest for a balance between finely controlled precision and spontaneous events within an unchained line of movement, attentively exchanging flows of energy in sound and space. Their emphasis always lies on intense listening that informs every decision of their playing.
Thursday, 23 February 2017
subsonicspace 2017
MUG at Einstein Kultur
Quintet Moderne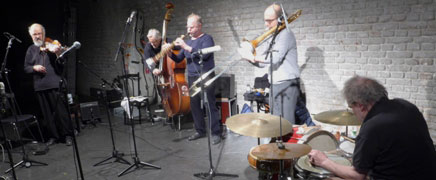 Phil Wachsmann, violin / GB
Teppo Hauta-Aho, bass / Finnland
Harri Sjöström, saxophone / Finnland
Sebi Tramontana, trombone / D
Paul Lovens, percussion / D
A legend among improv groups, boasting a well-nigh constant lineup, Quintet Moderne is also something of a mystery.
In the 80's five musicians, driven by a common search for new sounds, came together to form this Finnish-German-English collaboration: violinist Phil Wachsmann, bassist Teppo-Hauto-Aho, soprano saxophonist Harri Sjöström, percussionst Paul Lovens as well as trombonist Jari Hongisto, later replaced by Paul Rutherford.
Thirty years after their first lp, later to be followed by only two additional releases, including a single consisting of a mere three and a half minutes of music, it was thought high time to bring this quintet back to the stage, with Sebi Tramontana succeeding the late Paul Rutherford on trombone.
With a stellar lineup like this, we can look forward to a perfomance that will be timeless, surprising, intense, full of humor and gripping from the first to the last tone!
Tuesday, 07 February 2017
Applaus Series 2017
MUG at Einstein Kultur
Kimmig - Studer - Zimmerlin + John Butcher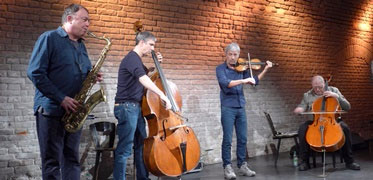 John Butcher, saxophone / GB
Daniel Studer, bass / CH
Harald Kimmig, violin / D
Alfred Zimmerlin, violoncello / CH
Since the recording of their first concert in January 2015, this quartet has come together frequently and evolved a strong unity. At many renowned Festivals and international venues throughout Europe and beyond, they were able to prove that improvisation, in the hands of masters of this genre, is a continuous process of optimization.
The intuitive grasp of the flow and the concomitant curiosity about how to fashion it in an ongoing process, give rise to musical dialogs endowed with a special magic that, from the very beginning, is translated to the audience.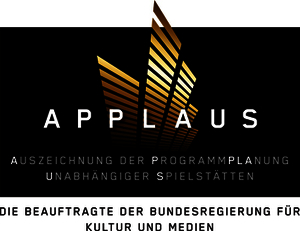 This concert highlight has been made possible by APPLAUS 2016 an award offered by the Federal Commissioner for Culture and Media.
APPLAUS – Auszeichnung der Programmplanung unabhängiger Spielstätten ist ein Projekt der Initiative Musik, das in Zusammenarbeit mit der Bundeskonferenz Jazz (BK Jazz) sowie der LiveMusikKommission, Verband der Musikspielstätten in Deutschland e.V. (LiveKomm), durchgeführt wird.
Für sein "herausragendes Liveprogramm" wurde unser Verein zum zweiten Mal nach 2014 mit einem Preis geehrt, was uns außerordentlich freut und uns anspornt, so weiterzumachen!
Bereits das 2015er Konzert des Quartetts wurde ermöglicht durch den Spielstättenprogrammpreis der deutschen Bundesregierung für Offene Ohren e.V.. In diesem Jahr wird nun auch das Folgekonzert möglich. Wir danken der Initiative Musik und der Staatsministerin für Kultur und Medien!
For this tour, the musicians are supported by:
Ernst Göhner Stiftung, Fondation Nicati - de Luze, Fondation SUISA, Pro Helvetia, C. + A. Kupper Stiftung, Schweizerische Interpretenstiftung SIS.
Saturday, 04 February 2017
subsonicspace 2017
MUG at Einstein Kultur
Daniel Levin Quartet

Mat Maneri, viola/ USA
Matt Moran, vibraphone / USA
Torbjörn Zetterberg, bass / Schweden
Daniel Levin, cello / USA
With its chamber music appearance this drummerless lineup consisting of US cellist Daniel Levin and his colleagues Mat Maneri on viola, Torbjörn Zetterberg on bass and Matt Moran on vibraphone, brings together elements from diverse styles without exclusively committing to any one of them.
With the duo of Daniel Levin and the internationally renowned viola player Mat Maneri building the group's core, they manage to create a unique blend of American jazz, European classical, microtonal, New Music as well as free improvised approaches.
The curious can find musical excerpts on http://daniel-levin.com/daniel-levin-quartet. The best option, though, as alway is to enjoy the concert live at the MUG!
Concerts 2016
Friday, 02 December 2016
subsonicspace 2016
MUG - Munich Underground at Einstein Kultur
Die Hochstapler
Antonio Borghini, double bass / I
Louis Laurain, trumpet / F
Pierre Borel, saxophone / F
Hannes Lingens, drums / D
The work of the Italian-French-German quartet "Die Hochstapler" (The Impostors) is based on questions of language and communication. Refraining from any use of notation, rules and strategies developed out of poetry, card games, alphabets and other sources of inspiration form the grammar for the hochstaplerish discourse.
The main source for these concepts lies in the discovery of the writings of the exceptional musician and mathematician from Chicago, Alvin P. Buckley. A pioneering scientific resarcher (probability theory) and versatile musician back in Chicago, Buckley retired from active music making after an epiphanic encounter with Stockhausen, but kept writing down ideas for musical games, structures and strategies for collective composition, as well as melodic fragments and short philosophic aphorisms, in his journal.
The vast majority of entries in Buckleys journal (1959-1964) circles around how musical communication could potentially be organised. Natural laws, rules and strategies. Poetry, card games, alphabets. Four independent voices, free to suggest, pretend, agree, disagree or ignore at any time of the game, collectively build up a rhetoric, full of hints and references, playful and ever changing.
Saturday, 19 November 2016
subsonicspace 2016
MUG - Munich Underground at Einstein Kultur
Elisabeth Coudoux´ Emissatett
Philip Zoubek, piano / A
Elisabeth Coudoux, cello / D
Henning Sieverts, bass, cello/ D
Matthias Muche, trombone / D
Etienne Nillesen, prep. drums / D
Originally founded as a trio by cellist Elisabeth Coudoux, the Emissatett will visit Offene Ohren in a by now established quintet lineup, consisting of, alongside Coudoux, Matthias Muche (trombone), Henning Sieverts (double bass), Philip Zoubek (pepared piano) and Etienne Nillesen (pepared snare drum & cymbals).
Connected by fine threads, compositions and free improvisations weave a well-balanced fabric. Each musician contributes his/her own ideas in an open concept of notes and sounds, melodies and situations that are by turns closely and loosely structured.
Frequently, the structure of musical ideas functions as a guideline that will challenge players to integrate their own sonic language into the whole and to find their own interpretation of it. Free improvisation always is the common basis, from which all members of the quintet draw their ability
to act.
Friday, 04 November 2016
subsonicspace 2016
MUG - Munich Underground at Einstein Kultur
Keune - Lash - Noble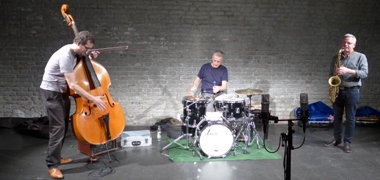 Steve Noble, drums / GB
Dominic Lash, bass / GB
Stefan Keune, reeds / D
Ever since he played in a Duo with Paul Lytton in 1990, Stefan Keune has been a fan of the British improv scene. Even before its official establishment, Offene Ohren got to know his duo with guitarist John Russell at the Freedom of the City Festival in London and invited them for the club's sixth concert.
A 150 Offene Ohren concerts later, Keune again brings two colleagues from the UK. Steve Noble is a rather rhythmically oriented free drummer, notable for playing in groups with Peter Brötzmann and Sophie Agnel. Young bass player Dominic Lash performed only a few months ago as part of Lisa
Ullén's A/L/U trio on the MUG stage.
And Stefan Keune has promised to bring his newest CD along. The pieces with duo partner Paul Lovens were recorded during a tour in 2013 – and mainly during there visit at Offene Ohren!
Thursday, 27 October 2016
subsonicspace 2016
MUG - Munich Underground at Einstein Kultur
Contest of Pleasures
Axel Dörner, trumpet / D
John Butcher, tenor and soprano sax / GB
Xavier Charles, clarinet / F
The trio formed, at the suggestion of Xavier Charles, to play at the 1999 Musique Action in Vandoeuvre, and has since played in France, Austria, Sweden and Switzerland - including at the Victoriaville (Canada), LMC (UK), GMEA (France) and Huddersfield Contemporary (UK) festivals.
"The grain of acoustic sound takes on the metallic colour one associates with the electronic, in the process redefining the idea of sonic modernity, disproving the idea that it can only be provided by new technology." (Nick Cain / Opprobrium)
If you are willing to undergo a risk you will be richly rewarded. Beat patterns and difference tones from the high-pitched horns give rise to "invisible" bass parts. In the room, in the head? Ultimately, an irrelevant question for this journey through fascinating sonic territory.
Friday, 21 October 2016
subsonicspace 2016
MUG - Munich Underground at Einstein Kultur
Irene Kepl -Bertrand Gauguet


Irene Kepl, violine
Bertrand Gauguet, alto saxophone
Irene Kepl - Violine solo
Improvisation – interpretation – composition. Magical moments springing from the formal openness of improvisation are put into contrast with planned processes. Both approaches benefit from the physical and mental internalization of musical mindscapes, past and present.
Irene Kepl's solo appearances are looking for adventure, challenging performer and audience alike and consciously exposing themselves to the conflict between technical versatility and intended risk.
Bertrand Gauguet - Altsaxofon solo
At every new location, solo playing is a continuous premiere. There is no other concert situation where architecture and the room's acoustic properties have such a decisive bearing on the structural evolution of the improvisations.
Influenced by flexible, transparent and potentially instable forms, the music advances into different dimensions of perception, giving rise to a parallel sonic reality.
SHIRO is a concept developed in Japan in 2011 and since continuosly extended to encourage a fruitful involvement with shakuhachi playing and Buddhism – "playing, breathing and meditation are activities of an equal standing" (Ichi Nyo Suizen).
Saturday, 08 October 2016
subsonicspace 2016
MUG - Munich Underground at Einstein Kultur
North of North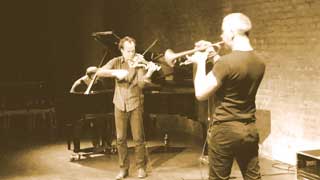 Anthony Pateras, piano
Erkki Veltheim, violin
Scott Tinkler, trumpet
Formed across Berlin/Melbourne in 2015, this trio present real-time compositions with crystalline aural architectures, using the moment itself as their structural compass.
All virtuosos on their given instruments, all are renowned for their contributions all over the musical map, and all possess highly distinctive and individual performance languages. As a unit, the music snakes between joyous pointillism, intense rhythmic interplay and rich walls of sound.
Their debut album is entitled The Moment In And Of Itself on Immediata.
This project has been assisted by the Australian Government through the Australia Council for the Arts, its arts funding and advisory body.

Wednesday, 14 September 2016
subsonicspace 2016
MUG - Munich Underground at Einstein Kultur
Brötzmann – Steidle Duo
Oli Steidle, drums / D
Peter Brötzmann, reeds / D
This exciting duo resulted from the encounter of the trio "Die dicken Finger" with Peter Brötzmann.
Calling Peter Brötzmann Germany's most eminent jazz export is absolutely justified considering the seminal importance of this musician. His enormous oeuvre is documented on more than 200 recordings. There is no mistaking his lasting influence on subsequent generations of players.
Oliver Steidle is the drummer of "Die dicken Finger" and has also been active for many years with "Der rote Bereich" alongside Rudi Mahall and Frank Möbus and with Finnish guitarist Kalle Kalima.
Our autumn highlight. Energetic music for open ears!
Saturday, 10 September 2016
subsonicspace 2016
MUG - Munich Underground at Einstein Kultur
Rheinstein Quartett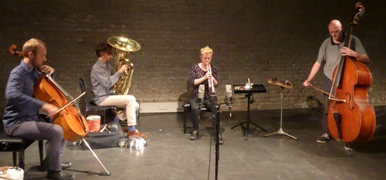 Jan-Filip Tupa, cello
Carl Ludwig Hübsch, tuba
Liz Allbee, trumpet
Uli Phillipp, bass
The instrumentation alone should draw attention: Featuring two low string instruments as well as one high and one low brass instrument, the Rheinstein quartet does indeed boast a fairly unconventional lineup.
Drawing on a wealth of experience ranging from New Music and jazz to experimental and sound art, the four musicans are always willing to subordinate their considerable instrumental skills to a common musical process.
Visitors are in for an outstanding listening experience.
Friday, 02 September 2016
subsonicspace 2016
MUG - Munich Underground at Einstein Kultur
Duboc - Sato - Schwingenschlögl
Makato Sato, perkussion /J
Benjamin Duboc, bass / F
Paul Schwingenschlögl, trumpet / A
Founded in Paris in 2013, this international trio brings together Berlin-based Paul Schwingenschlögl from Austria, Benjamin Duboc from France and Makato Sato from Japan in a grouping of equal musical voices from different cultures.
The trumpet evokes Bill Dixon and at times the early Leo Smith, whereas Sato's approach speaks of his experiences in Paris of the 70's, when he frequently performed with Alan Silva, the Art Ensemble of Chicago or Marion Brown.
Benjamin Duboc, on the other hand, is equally at home in jazz, improvisation, composition and music for films.
Friday, 29 July 2016
subsonicspace 2016
MUG - Munich Underground at Einstein Kultur
WATT - quatuor de clarinettes

Julien Pontvianne / clarinet
Antonin-Tri Hoang / clarinets
Jean-Brice Godet / clarinets
Enrico Sartori / clarinets
Der Name dieses französischen Klarinettenensembles bezieht sich auf Samuel Becketts zweites Werk. Er ist inspiriert von der abstrakten Konzeption und der linearen, puren Erzählweise dieses Schriftstellers.
WATT endeavours to use the clarinet as a true emitter of sound waves, ranging from almost pure sine tones to more complex periodic motions. Long and improvised forms are privileged, in which rhythms are beats, timbres merge in the extreme, and tuning is greatly distorted.
Ausgehend von wenigen, ja, einer einzigen Note, entwickeln sich mikrotonale Strukturen, Schwebungen, kaum merkbare Veränderungen, die die Musik von WATT auch mit der Musik Giacinto Scelsis assoziieren.
Abwesenheit von Rhythmus macht einen Teil des Zaubers dieser Musik aus. Aber es ist auch der Sog der Klangfarben, der reichen Interferenzen, des natürlichen Vibratos, das zwischen den Instrumenten entsteht, und der langsam die Ohren öffnet für ein "Theater der kleinen Dinge", in das der Zuhörer unmerklich eintaucht und fasziniert wieder verlässt.
Herzlichen Dank an Enrico Sartori, der den kurzfristig verhinderten Jean Dousteyssier hervorragend vertreten hat.
Saturday, 11 June 2016
subsonicspace 2016
MUG - Munich Underground at Einstein Kultur
Kimmig – Hemingway Duo
Harald Kimmig, violine
Gerry Hemingway, drums
Gerry Hemingways Liste von Duopartnern liest sich wie ein Who´s´Who der ersten Garde zeitgenössischer Jazzmusiker und Improvisatoren. Anthony Braxton, Marilyn Crispell, John Butcher, Thomas Lehn, Earl Howard, Ivo Perelman, Jin Hi Kim, Ellery Eskelin sind nur einige Beispiele. Sie zeigen aber wie vielseitig und unbeschränkt kreativ dieser Meister der Drumsticks wie auch der Vibraphon-Mallets sein Fach beherrscht.
Nun also ein Duo mit Harald Kimmig. Offene Ohren erinnern sich begeistert an das letztjährige traumhafte Konzert mit Harald Kimmigs String-Trio-Partnern Alfred Zimmerlin und Daniel Studer, zusammen mit John Butcher.
Mit Harald Kimmig & Gerry Hemingway treffen zwei Freigeister aufeinander, denen neben ihrer meisterhaften handwerklichen Beherrschung ihrer Instrumente eine ungebremste Neugier auf ungehörte Klänge zu eigen ist sowie im Dialog sich eröffnende neue Soundwelten und Austarierung feinster Nuancen der Kommunikation.
Die Frage ob Komposition oder Improvisation, Planung oder Spontaneität rückt hier in den Hintergrund und wird ersetzt durch das pure Klangerlebnis, zu dem wir alle Offenen Ohren herzlich einladen!
Thursday, 21 April 2016
subsonicspace 2016
MUG - Munich Underground at Einstein Kultur
Sawtout (Libanon - Berlin)
Burkhard Beins, Perkussion
Mazen Kerbaj, Trompete
Michael Vorfeld, Perkussion
Sawtout is a new trio project for experimental improv music, consisting of Mazen Kerbaj, currently "Improvisor in Residence" of the Berliner Künstlerprogramm des DAAD, and the two Berlin-based percussionists Burkhard Beins and Michael Vorfeld.
All three already were guests of Offene Ohren e.V., Mazen Kerbaj only recently in a solo program for trumpet, objects and electronics in December 2014.
Michael Vorfeld may be called a musical chameleon and a genius of instrument-making, having introduced among other things the light bulb as a musical instrument to the general public.
Burkhard Beins, according to the All Music Guide, is a universal musician, who has shown the term "percussionist" to be hopelessly inadequate. The stage is set for a fascinating concert!
Sunday, 10 April 2016
piano spring 2016
MUG - Munich Underground at Einstein Kultur
Demierre-Dörner-Kocher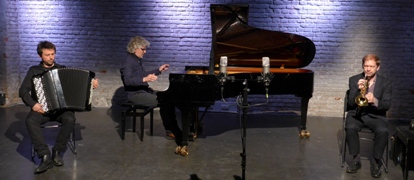 Jonas Kocher, accordion / CH
Jacques Demierre, piano / CH
Axel Dörner, trumpet/ D
The trio Demierre-Dörner-Kocher is much more than an unusual constellation of tonal colors and instruments: piano, trumpet, accordion.
Curiosity. Balance. Confidence. Listening. Construction. Form. These are key concepts and even essential attitudes, qualities, goals for the three improvisors, who came together for the first time at the Météo Festival in Mulhouse as Jacques Demierre's carte blanche lineup and have since established and continually reinvented themselves as a trio.
Clearly, the longstanding and extremely diverse experiences of the musicians involved are the basis for it all: from Cool Jazz to Monk to concept music with Axel Dörner; exploring the contrasts of static/dynamic or electronic/acoustic approaches with Jonas Kocher; and the know-how from seasoned improv groups like dlp, combined with theater music and studies in language, phonemics and phonetics with Jacques Demierre, the trio's initiator.
The musicians are supported by

Samstag, 02. April 2016
subsonicspace 2016
MUG im Einstein Kultur
Ein Gschlößl Pöschl mit Cavenati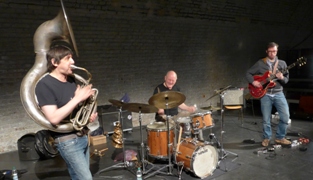 Gerhard Gschlößl, Posaune, Sousaphon
Sunk Pöschl, Schlagzeug, Perkussion
Alberto Cavenati, GitarrenI
Unseres Wissens ist dies die erste Band mit eigenem Cocktail - der natürlich bei ihrem Konzert im MUG dank der wunderbaren Helga W.-Wollinger, die ihn eigens für dieses Trio entwickelt hat, auch serviert werden wird - nämlich besagten Gschlößl Pöschl, natürlich mit Cavenati!
Lassen Sie sich überraschen von der exquisiten Drink-Creation, die wie die Musik aus einer Kombination erdiger Urwüchsigkeit, lokalem Bezug und exotischen Zutaten besteht, mit handwerklicher Präzision und großstädtischem Laissez-faire gemixt und mit einem Augenzwinkern serviert wird.
Ein kleines weiteres Indiz, was stilistisch zu erwarten sein wird, ist der Name des CD-Labels, dessen Erstling wir hier feiern: "Trouble in the East" ist nicht nur bezogen auf den Berliner Wahl-Wohnsitz der drei Bandmitglieder, sondern auch ein Titel Ornette Colemans.
Und letztlich lässt die Kombination der beteiligten Instrumente ebenfalls einen ungewöhnlichen frischen Konzertabend erwarten: die Kombination von Gerhard Gschlößl´s Posaune bzw. Sousaphone, kombiniert mit Gitarre, gespielt von Alberto Cavenati, und unterlegt mit Schlagzeug und diverser Perkussion des hier bestens bekannten Sunk Pöschl hört man beileibe nicht jeden Tag.
Thursday, 24 March 2016
subsonicspace 2016
MUG - Munich Underground at Einstein Kultur
Im Wald

Tobias Meier, saxophone / CH
Frantz Loriot, viola / F
Nicola Romanò, cello / CH
Raffaele Bosshard, bass / CH
Matthias Spillmann, trumpet / CH
Im Wald is a project of Zurich-based saxophonist and composer Tobias Meier and brings together some of the most active musicians from the Swiss and French improv, New Music and Jazz scene.
Though drawing from different sources of inspiration, the five musicians manage to create a unity that is larger than the sum of its parts. They seem to rotate in their respective orbits around an invisible center holding together everything.
Using a chamber music approach, Im Wald are working with transitions and intermediate spaces, with events that are clear and concealed at the same time. Their music is interested in multiple sonorities: noises stand on an equal footing with chord and interval structures. This process implies that the linear development of melodies is replaced by a multi-directional extension of ideas.
Friday, 04 March 2016
subsonicspace 2016
MUG - Munich Underground at Einstein Kultur
OKER Quartet
Thorstein Lavik Larsen, trumpet / N
Jan Martin Gismervik, percussion / N
Adrian Fiskum Myhr, bass / N
Frederik Rasten, guitar / N
Oker (Norwegian for ochre) is an acoustic improvising quartet, including trumpet, doublebass, acoustic guitar and percussion. Regular Offene Ohren concert visitors will remember Adrian Myhr from his concert with Facet Trio 3 years ago at MUG.
The pieces can be long in duration with rich textures in gradual change, but also spontaneous and open. The ensemble balances between airy gestures and dense collective blocks of sound.
OKER successfuly toured Eastern Europe (Czechia, Hungary, Romania, Russia) last fall, and is now coming to Germany for the first time.
Saturday, 27 February 2016
piano spring 2016
MUG - Munich Underground at Einstein Kultur
Lisa Ullén A/L/U
Lisa Ullén, piano / S
Dominic Lash, bass / GB
Sam Andreae, saxophone / GB
On the occasion of the release of their debut CD the improv trio A/L/U has gone on a European tour that will also see them perform at the MUG.
In this trio, Sam Andreae, Lisa Ullén and Dominic Lash are creating playful soundscapes and exploring worlds on the thin line between form and chaos.
All of the players are internationally renowned improvisers, and the intimate knowledge of each other's musical language allows them to achieve perfect unison structures as well as extreme contrasts.
As with complex and fragile ecosystems – at the same time static and dynamic – the trio's music is at all times ready to erupt into volcanic outbursts. The seriousness of their approach is abundantly made clear, even though we also find an almost childlike curiosity and carefreeness.
Saturday, 13 February 2016
piano spring 2016
MUG - Munich Underground at Einstein Kultur
SODA - Agnel-Chiesa Duo
Sophie Agnel, piano / F
David Chiesa, bass / F
Sophie Angel is one of those rare artists able to demolish the programmatic complacency of traditional Jazz or New Music festivals by drawing on a seemingly boundless wealth of creativity. Never resting on her laurels, she is continuously extending her esthetic investigations to unchartered territories.
At the MUG, she will appear with double bassist David Chiesa, also hailing from France.
Both show an immanent tendency for exploring the material of their instruments. Wood, strings and metal are rubbed, stroked, scraped, tapped, beaten. With a panoply of sounds ranging from subtle breaths to thunder rolls, they draw lines and planes of an abstract landscape, switching at lightning speed from intellect to emotion, from calculation to poetry.
Concerts 2015
Saturday, 28 November 2015
subsonicspace 2015
MUG - Munich Underground at Einstein
GLUE Trio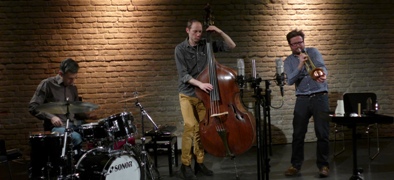 Yorgos Dimitriadis, percussion / GR
Miles Perkin, bass / CDN
Tom Arthurs, trumpet / UK
GLUE is chamber music for the 21st Century. GLUE is a dynamic improvising trio from Berlin - an international cocktail of individual voices and experiences.
Influenced by Berlin reductionism, Pygmy singing, Morton Feldman, Steve Coleman, Bonanza Coffee Heroes and a whole lot more in between. Making you want to Dance. Shout. Cry. Meditate. Pedalo. Smile. Increasingly renowned for their extremely soft yet intense live performances full of micro-detail, lightning-fast interactions and timbral subtlety. Although the music of Glue is as unique and distinctive as its three members, it is also emblematic of a style of music emerging from Berlin today.
Glue's music springs directly from the multitudinous musical experiences of its three members; it is freely improvised without any predetermined thematic guidelines. For these musicians, it's about a coherent group music.
Instead of solos with accompaniment, one finds a closely interwoven network of equal instruments. Each musician takes care of balancing action and reaction, playing and listening. It's about a variety of changing, finely nuanced sound-colours and maintaining intensity at low volumes.
At all energy levels, the music exudes calmness, relaxation, serenity, and openness. There are no dogmas, no prohibitions, and no taboos. The pieces almost always start from a clean slate—a rest and silence from which acoustic structures are carved like sculptures. The musicians are simultaneously performers and listeners, giving the music space and finding surprises in whatever comes into being between them.
Experience the simultaneous idea and realisation.!
[Digital album Glue, booklet text by Klaus Kürvers 2011]
Thursday, 19 November 2015
subsonicspace 2015
MUG - Munich Underground at Einstein
dlp Demierre-Leimgruber-Phillips
Urs Leimgruber, tenor, soprano saxophone / CH
Barre Phillips, bass / USA
Jacques Demierre, piano / CH
Photo: H. Schneider
For fifteen years dlp - Demierre, Leimgruber und Phillips - have successfully avoided being pigeonholed into closed musical categories. Free jazz and Cage, post-Webern extended intervals, aleatorics and decades of blues are only some of the elements vibrantly condensed and distilled here.
For the second time - after more than nine years - this three-star trio will give a concert for Offene Ohren. And they will bring us all kinds of news: The sound structures developed by dlp lie in the mercurial borderland between imagination and logic, experience and surprise, concentration and detail.
Dispensing with a stereotypically melodic-rhythmic vocabulary, the three musicians are probing the components of sounds; instead of piling up more and more, they manage to reduce, focus and compress.
The musical materials used are not new, but they are scrutinized, dissected and reorganized in unexpected ways, yielding surprisingly intense and compelling results.
Monday, 16 November 2015
subsonicspace 2015
MUG - Munich Underground at Einstein
ROVA Saxophone Quartet
Bruce Ackley, saxophone / USA
Jon Raskin, saxophone / USA
Steve Adams, saxophone / USA
Larry Ochs, saxophone / USA
Rova Saxophone Quartet performs Sound in Space. The four musicians will bring their sonic project to the Munich Underground with its special vaulted architecture and acoustics, a unique experience not to be missed.
For over a quarter of a century, the Rova Saxophone Quartet has been acclaimed and widely recognized for its vital role in extending the horizons of today's genre-bending music. Rova has become an important leader in the music movement that has its roots in post-?bop, free jazz, avant-?rock, and 20th century new music as well as drawing inspiration from traditional and popular styles of Africa, Asia, Europe and the United States.
The musicians have composed and arranged 6 pieces which resonate beautifully in any older hall, church, or special theater that has both special acoustics (or echo), and also gives the musicians the option to surround or orbit the audience as well as perform from the front.
Sound in Space refers not only to the relationship of the music to the physical structure of the hall, but also to the silences within the music itself; active silences that shape the music as much as the sound created by the musicians.
Friday, 30 October 2015
subsonicspace 2015
MUG - Munich Underground at Einstein
Trio Internazionale: Sjöström-Mimmo-Kujala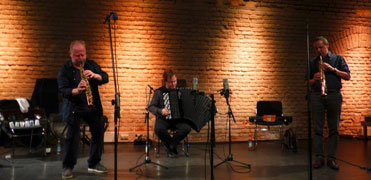 Harri Sjöström, soprano sax / SF
Veli Kujala, accordion / SF
Gianni Mimmo, soprano sax / I
Trio Internazionale is an ensemble consisting of three internationally renowned musicians: soprano saxophonists Harri Sjöström and Gianni Mimmo, as well as accordionist Veli Kujala.
The virtuoso instrumentalists guide their audience through imaginary, constantly evolving soundscapes. Years of intense investigation into the possibilities of instant composing and an approach to New Music that overcomes technical boundaries, result in subtle or at times vigorous sonic constructs of charismatic appeal. Roaming through a kaleidoscope of musical moods, the listener experiences a perpetually changing, playful dance ranging from lyrical nuances to dramatical eruptions. The musicians create chamber musical improvisations, allowing everyone to breathe the common air.
What happens when music is emerging NOW? What is the difference between composing and improvising? This is how Steve Lacy put it in 1969: A composer producing 15 seconds of music has ample time for considering how these 15 seconds should sound. By contrast, an impovisor has only those 15 seconds to come up with the final result.
Improvisation can be seen as an immediate form of composition, as a composing in realtime. It requires the ability to understand the whole and its scructure and the sensibility to steer the musical expression in new, unexplored directions.
Saturday, 24 October 2015
subsonicspace 2015
MUG - Munich Underground at Einstein
Streifenjunko

Eivind Lønning, trumpet
Espen Reinertsen, saxophone
Streifenjunko's first CD No Longer Burning has appeared on the Sofa label. Journalist Peter Margasak of the Chicago Reader wrote: "Trumpeter Eivind Lønning and saxophonist Espen Reinertsen, two young Norwegians operating under the name Streifenjunko, blew me away with their surprising debut album. Their work represents one of the most substantial and original approaches to improvised music that I have heard in the last years."
The group's second album, called Sval Torv, was released in August 2012 as a double LP, again on Sofa.
The duo Lønning and Reinertsen also perform in concert with other musicians - for instance only recently with the ECM project Christian Wallumrød Ensemble or alongside tubist Martin Taxt, guitarist Tetuzi Akiyama and no-input mixer player Toshimaru Nakamura in the improvising quintet Koboku Senju. They also collaborated with Sidsel Endresen and Keith Rowe/Kjell Bjørgeengen.
Sunday, 11 October 2015
concert at the open day of Einstein Kultur "Hereinspaziert!"
MUG - Munich Underground at Einstein Kultur
Geisse Janker Pöschl
modulated works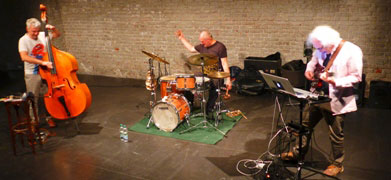 Georg Janker [bass, modulenz frequentator]
Sunk Pöschl [percussion]
Gunnar Geisse [laptop guitar]
Mo|du|la|ti|on, die; -, -en
A process during which a useful signal intended to be conveyed (i.e. this trio's opulent world of ideas) changes or modulates a so-called carrier signal (i.e. the jazz).
After all his trips to electronics, real time sampling and laptop sounds, Gunnar Geisse is once again discovering the charm of his original instrument, the guitar – the only difference being that his music is now spiced with his experiences in the digital world.
Sunk Pöschl's curiosity about New Sounds - both improvised and composed ones – has always been based on the rhythm, drive and groove of jazz.
And Georg Janker's vigorous approach to playing the bass, which fluctuates between shuhuru grooves and abstract sound experiments, arouses expectations of everything between straightforward jazz and thrilling and/or humorous excursions into the world of improvisation.
Saturday, 11 July 2015
Subsonicspace 2015
MUG at Einstein Kultur
Duo Marino - Vogel
Luigi Marino, percussion, electronic
Sabine Vogel, flutes
The music proposed by the duo Marino-Vogel focuses on sound and all its shades. Each sound is a microcosmos and the basics of the extemporary dialogue between the two musicians are to be found in the subtlest elements inside this articulate acoustic world.
Metal resonances and air columns set in vibration inside a flute: sounds barely audible emerge from the background to take a predominant role, gradually showing all their potential and unexpected directions.
Sabine Vogel focuses on sound and improvisation, using extended techniques both acoustic as well as electronic, creating a very personal contemporary language for the flute. Discovering and producing the unheard, the intimate, in relation to sound production within the flute, is her main focus of exploration.
Luigi Marino is a musician native to Rome. He holds a BA in Arts and Philosophy from University of Rome Tor Vergata, and an MFA in Electronic Music from Mills College, where he studied under the guide of John Bischoff and Roscoe Mitchell. As percussionist, he is specialized in bowed metals and hand drums, with a predilection for the zarb. Improvisation has always an essential role in his performances.
Originally, he fascinated us with his duo project "Urban Flux". Working in a completely different way, the new duo Marino-Vogel will integrate the MUG space into the process intensely and take the audience on a magical sound voyage.
Saturday, 27 June 2015
subsonicspace 2015
MUG at Einstein Kultur
Bertoncini / Lehn
Tiziana Bertoncini, violin
Thomas Lehn, analogue synthesizer
Photo: Franz Reiterer
Tiziana Bertoncini and Thomas Lehn have been working together since 2002. They appear together as a duo but also in larger lineups like the ensemble]h[iatus. In collaboration with ZAM (Zentrum aktuelle Musik e.V.), they curated the Cologne two day festival comprovise in 2009 contrasting contemporary composed music with improvised music in order to investigate their points of contact, overlaps, proximities as well as distances.
In 2012 the Cologne cultural magazine Aufabwegen wrote about their first duo CD Horsky Park released the previous year on the British improv label Another Timbre:
"On two tracks, we hear the encounter of violin and analogue sythesizer in every conceivable nuance. Even if it might sound clichéd, it is true that Bertoncini's violin provides warm and organically rasping sounds, whereas the synth mimes the rabid machine, not without a certain deepness, but noticeably colder.
The music on Horsky Park depends on the tension between catchy, histrionically jubilant string work and bubbling, pulsating electronics. Sometimes it gets noisy, sometimes delicately planar and crackling; always we are excited to learn how many details will reveal themselves in the nooks and folds of the sounds."
Thursday, 25 June 2015
i-camp | Neues Theater München
KARL ein KARL
Peter K Frey, double bass
Michel Seigner, electronic guitar
Alfred Zimmerlin, violoncello
KARL ein KARL command a diverse panoply of colors and timbres. Using new playing techniques, variably placed pick-up systems, preparations and scordaturas on their instruments, they manage to delve into uncharted territories far beyond any conventional sonic diction. In the last years, they have expanded their approach by drawing on electronic resources.
The music of KARL ein KARL is subject to continuous evolution, the three players being anxious to smash through their own taboos time and again. As a case in point, they now succeed in interlacing their performances with musical stereotypes, an approach they originally refrained from for the sake
of finding an autonomous language. This willingness to persistently question and go against the principles of what has been achieved has a direct reward for the three members of KARL ein KARL: sheer joy of playing. And it is this joy of playing that lends wit and vitality to their music.
Friday, 19 June 2015
subsonicspace 2015
MUG at Einstein Kultur
Trio NOW!

Tanja Feichtmair, alto saxophone
Uli Winter, cello
Fredi Pröll, drums
A highlight of last year's Kaleidophon festival in Ulrichsberg, trio NOW! will visit Munich in June - Fredi Pröll on drums, Uli Winter on cello and Tanja Feichtmair on alto saxophone.
NOW! as in here and now, offering snapshots, instant fantasies, spontaneous reactions, impromptu explorations, real-time dialogues. Blazing with passion through this coordinate system, these three improvisors confidently pursue their distinctly selfwilled paths. At the same time though, they candidly own up to influences and inspirations they absorbed in the course of their activities for Jazzatelier Ulrichsberg.
[Excerpt from Hannes Schweiger's review of the CD "Trio Now!" in the Austrian music magazine freiStil.]
Saturday, 23 May 2015
piano spring 2015
MUG at Einstein Kultur
WinckelBOX mit Zoepf
Dieter Ulrich, drums
Christoph Winckel, bass
Joachim Zoepf, clarinets and saxophone
Claudia Ulla Binder, piano
Swiss pianist Claudia Ulla Binder will close the fifth year of this small series. The linup of piano, bass and drums might evoke a conventional jazz trio - but beware!
Even on its own, the trio BOX is treading unconventional paths, and it has strengthened its ranks with Joachim Zoepf who will lure the music even more firmly into unknown territories and always has a rhythmic, harmonic or melodious surprise card up his sleeve.
Albeit an improvisation trio, BOX is a well attuned team with years of common practice - but we will see the group in a modified version. Christian Weber had to call off on short notice and will be replaced by Berlin bassist Christoph Winckel. Christoph Winckel is the desired candidate of the remaining BOX duo. He was part of the acclaimed Alan Tomlinson trio at the MUG opening concert of Offene Ohren in 2011.
Accordingly, this encounter will be a premiere for all of us promising exciting musical dialogs, rapprochements, individual outbursts and spontaneous common creations eagerly awaited by players and audience alike.
Subsonicspace 2015
Monday, 04 May 2015
piano spring 2015
MUG at Einstein Kultur
Martel - Hübsch - Zoubek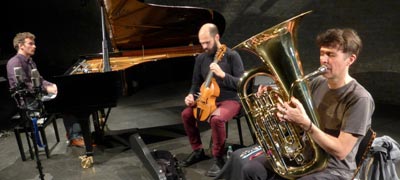 Philip Zoubek, piano
Pierre-Yves Martel, viola da Gamba
Carl-Ludwig Hübsch, tuba

Philip Zoubek is the pianist at our second Spring Series concert. In 2008 he was our guest in a duo with trombonist Paul Hubweber.
This time around, he is accompanied by Pierre-Yves Martel on the viola da gamba. All those of you who think of pre-baroque music now should remember that in 2010 already Martel, with his Duo Sainct Laurens, opened our ears for New Music from Canada.
The trio is completed by the surprisingly agile tuba of Carl-Ludwig Hübsch, who is also not a stranger to Offene Ohren.
Saturday, 18 April 2015
subsonicspace 2015
MUG at Einstein Kultur
Stellari String Quartet
John Edwards, bass
Phil Wachsmann, violin
Charlotte Hug, viola
Marcio Mattos, cello
This is our second attempt to bring this exceptional quartet to Munich. Back in December 2010 Marcio Mattos and Phil Wachsmann were stuck at the airport in London due to the onset of winter, and the audience at Offene Ohren had to make do with the Stellari Snow Duo consisting of Charlotte Hug and John Edwards who compensated for their colleagues' absence with an inspired performance exploding with sheer joy of playing.
Now we will finally be able to hear the whole quartet. After such a long wait this is an experience not to be missed!
The string quartet - the epitome of classical music identity? This concert will be proof that this lineup is also ideally suited for a panoply of experimental forms covering microtonality, dissonance, filigree lightness, harmonic interference, noise and silence.
All four members of the quartet have already performed at Offene Ohren concerts with different fellow musicians. Hence, their phenomenal individual brilliance is already well-known. The outstanding thing about the quartet is its unerring instinct for communication and the weightless facility of its sonic creations. The music might seem like it was composed, but it still is irrecoverable and unique.
Sunday, 12 April 2015
subsonicspace 2015
MUG at Einstein Kultur
BaLoNi
Joachim Badenhorst, clarinet, saxophone
Frantz Loriot, viola
Pascal Niggenkemper, bass
Belgian clarinet and tenor saxophone player Joachim Badenhorst, Japanese-French viola player Frantz Loriot and German-French bassist Pascal Niggenkemper met in Brooklyn in 2008. Together, they produce a "triple entente" giving all players a chance for continuous evolution of their musical language.
As for improvised music, this trio is a real fountain of youth. Relying on their own brand of sound exploration and romantic eruptions that seem to have escaped from classical chamber music, these guys achieve a mix that is both fresh and original.
The music played by these improvisers shatters the conventions from which it has arisen. It is a music refusing easy conformism, the music of a high-wire artist in dizzying heights, ready at any moment to jump into the unknown. A liberating music.
Saturday, 28 March 2015
piano spring 2015
MUG at Einstein Kultur
Sonata Erronea
Dušica Cajlan-Wissel (piano)
Gunda Gottschalk (violin, viola)
The high art of im improvisation in the classic duo format of violin and piano affords us with a special listening journey: music without notes arising from the moment and played in the most literal meaning of the word.
Due to their similar musical backgrounds, Dušica and Gunda bring a strong feeling for small ensemble forms and structures to the table. The essence of their work is to articulate the musical now. Both are out to jointly explore a wealth of devious, circuitous and ramifying ways beyond their classical training and lineup, thereby creating a music full of imagination and a singular lyricism.
Dušica Cajlan-Wissel holds a university degree as a classical pianist. In the late 90's she participated in projects of improvised music in Cologne. After this she was looking for new forms and increasingly turned to contemporary composed music. Recently, her focus has been more on improvised music again, amply proved by her impressive concert at the 2012 Irtijal Festival in Beirut (curated by Mazen Kerbaj, who gave a trumpet solo concert for Offene Ohren last December).
Gunda Gottschalk, violin and viola, has performed throughout Europe at contemporary and improvised music festivals and appears regularly at the avantgarde festival Visions in New York. After her introduction to these circles by way of Peter Kowald's Global Village, she is now a staple of the international improv scene. However, she is equally versed in other forms of contemporary music associated with dance, theater, film, composition, fine arts and literature. In the past, Gunda was a guest of Offene Ohren in a duo with Xu Fengxia and and a trio with Xu Fengxia and Günter "Baby" Sommer.
Winter Surprise 2015
Due to being awarded the Spielstättenprogrammpreis 2014 by the Iniative Musik GmbH, we are able to present an additional series at the MUG: Winter Surprise 2015. The surprises in question range from string trio plus saxophone to New Jazz and to experimental performance. A feast for open ears!
Saturday, 14 February 2015
Winter Surprise 2015
MUG at Einstein Kultur
HDRS – Honsinger – Dörner – Rupp - Steidle
Olaf Rupp (electric guitar, acoustic guitar/D)
Oli Steidle (percussion/D)
Tristan Honsinger (cello/USA)
Axel Dörner (trumpet/D)
Tristan Honsinger lived in Montreal, Amsterdam, Paris, Florence and Berlin. Beyond his abilities as a classically trained cellist, he is a master of surreal word perfomance. His current CD "Baboon" presents a trio concert with Enrico Sartori and Tobias Delius recorded in 2012 at the MUG. In 2014 he was back in Munich with Japanese piano sensation Shuichi Chino. With HDRS, we can expect him to act out with relish his anarchic-histrionic side.
Axel Dörner Born in Cologne, 1964. Studied piano and trumpet (with Malte Burba) at the Musikhochschule, Cologne. Moved to Berlin in 1994. He has worked together with numerous internationally respected figures in the fields of Improvised Music, Composed Contemporary Music, Jazz and Electronic Music. He has developed a unique style of trumpet playing based in part on unusual, often self-invented techniques. He has toured in Europe, North and South America, Australia, Japan and Asia (Hongkong) and appeared on numerous CD and record releases.
Olaf Rupp started at the age of twelve as an autodidact to play what might be called today Improvised Music. His way of holding the guitar in an upright position is inspired by chinese Pipa players. He developed some playing techniques like for instance rasgueados, arpeggios, picados and tremolos in such a way that they can be used for overtone and cluster effects to create new, "virtual" sounds. Lacking the "ecstatic" part of Free Jazz as well as the pure mechanical emphasis of Nancarrow, he sometimes describes his sounds as "analog granular synthesis". He played among others with Lol Coxhill, Michael Wertmüller, John Zorn, Joe Williamson, Paul Lovens, Thomas Lehn, Butch Morris und Tony Buck. He has four solo albums on FMP and GROB.
Oliver Steidle is a drummer who has evolved from rhythmic servitude into a totally emancipated and unique musician. German music critics as well as the international press agree that Oliver Steidle is "one of the most innovative young jazz musicians", "a like-minded collaborator for many renowned musicians, [he] has developed an admirably distinctive style; he beats, whispers, and controls his instrument so fabulously as if it were the easiest thing in the world".
Thursday, 29 January 2015
Winter Surprise 2015
MUG at Einstein Kultur
Anker-Melbye-Sanders Trio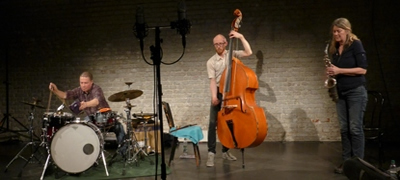 Mark Sanders (drums/UK)
Adam Pultz Melbye (bass/D)
Lotte Anker (sax/DK)
Lotte Anker (saxophones – DK) has been at the center of the international community of improvisers since the mid 90's, working with Marilyn Crispell, Ikue Mori, Fred Frith, Craig Taborn, Gerald Cleaver and many others, besides composing for Copenhagen Art Ensemble and her What River Ensemble, the latter commissioned by Huddersfield Contemporary Music Festival. Lotte is a member of the groundbreaking collective and record label ILK.
Adam Pultz Melbye (double bass – DK). Currently residing in Berlin, Adam is a significant renewer of the Danish bass tradition, touring Europe with a number of his own groups, performing solo concerts and working with Peter Brötzmann, Tobias Delius, Fred Lonberg-Holm and Johannes Bauer. Adam is a key member of the label and collective Barefoot Records, on which he has numerous releases.
Mark Sanders (drums – UK) is one of the most in-demand drummers on the European scene for improvisation. His many collaborators include Derek Bailey, Evan Parker, Barry Guy and Paul Dunmall, or the Foils Quartet with whom he performed for Offene Ohren in late 2013. His long-standing duo with bassist John Edwards is one of the tightest units of improvised music. He also works in composed situations with The ICE Ensemble, for Christian Marclay playing for his film "Everyday" and John Butcher for his piece "Tarab Cuts".
Sunday, 25 January 2015
Winter Surprise 2015
MUG at Einstein Kultur
Kimmig-Studer-Zimmerlin & John Butcher
John Butcher (tenorsax, sopransax/UK)
Alfred Zimmerlin (cello/CH)
Harald Kimmig (violin/D)
Daniel Studer (bass/CH)
In classical music, string trios are among the most common chamber music ensembles. But in jazz they are very rare.
Although different from a classical string trio by its lineup of violin, cello and double bass, a string trio is fairly unusual in free improvisation. Add to this that violinist Harald Kimmig, cellist Alfred Zimmerlin and double bassist Daniel Studer extend the traditional sound of th the string trio by uncommon playing techniques, and it is clear that this Swiss-German formation does not conform to stereotypes.
Based on their longstanding collaboration and familiarity, the three musicians are able to shape multi-faceted soundscapes, structures and forms. (Reinhard Kager, SWR, 2011)
Swiss Daniel Studer already performed for Offene Ohren with his colleague on the bass Peter K. Frey - their dialog was captured on a CD released by Creative Sources.
The Winter Surprise concerts are supported by the Initiative Musik Non-profit Project Company Ltd. with project funds from the Federal Government Commissioner for Culture and Media on the basis of a resolution passed by the German Bundestag.

The friends of improvised music of the Offene Ohren e.V. would like to thank the Kulturreferat München for its continuous help allowing to present improvised music in Munich.
Concerts 2014
Wednesday, 3 December 2014
subsonicspace
MUG - Munich Underground at Einstein
BRT VRT ZRT KRT- Mazen Kerbaj
Mazen Kerbaj, Trumpet olo
Lebanese trumpet player Mazen Kerbaj will bring his highly focused solo playing to the MUG. For the first time in seven years, the trumpet experimentalist, improvisor, organizer, graphic artist, author and politically engaged blogger will be our guest. In 2007, the Black Box witnessed the premiere of his trumpet trio with Franz Hautzinger and Axel Dörner.
BRT VRT ZRT KRT is the telling title of his trumpet suite, that presents the instrument as the source of countless unexpected sounds, ranging from a starting helicopter to softly rustling paper. No tricks, no electronics, no multi-tracking involved! Occasionally assisted by simple mechanical aids, everything comes about with an astoundingly precise technique.
Alongside his activity as improvising musician, Mazen is known both as a graphic artist and comic book author and as an organizer of concerts for jazz and experimental music in his home country, including the Irtal Festival in Beirut hosted since 2001.
Come and see Mazen Kerbaj in one of his rare visits to Europe!
Sunday, 16 November 2014
subsonicspace
MUG - Munich Underground at Einstein
RHRR
Frédéric Blondy, prepared piano
Guylaine Cosseron, voice
Xavier Charles, clarinet
For more than a decade now, Guylaine Cosseron has been carving out a distinct and very personal profile for her voice. In this, she has neither opted for the Jazz of the Great American Songbook nor for the distant floating world of Nordic ambient singing. But she did not turn into a female incarnation of Phil Minton either, even though she admires his work.
Unerringly, she has followed her own vision, supported by well-established musical partners like Joëlle Léandre, Michel Doneda, Sophie Agnel, John Russell and Jean-Luc Guionnet.
Frédéric Blondy, a master of the prepared piano, having at his command a seemingly inexhaustible array of sounds, and Xavier Charles, whose clarinet has acted in a wide range of improvisational contexts, are her partners here. Both have appeared in Offene Ohren concerts before. The three players have completed a successful tour of Japan this summer.
The trio's music is mysterious, restrained and very intimate, but at times also exalted and outgoing. Tightly knit lines by voice, piano and clarinet are interrupted by harsh, percussive staccatos and raw soundscapes, only to return at a moment's notice to their gentle interplay with silence.
Saturday, 25 October 2014
subsonicspace
MUG - Munich Underground at Einstein
WisseLyttonNies – 2+2 = 3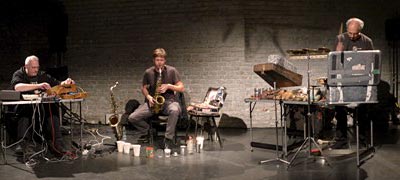 Joker Nies, custom-made electronics
Georg Wissel, prepared saxophones
Paul Lytton, custom-made percussion
2+2=3 combines Georg Wissel's longstanding duos with percussionist Paul Lytton and 'electrosapiens' Joker Nies in a new trio, which makes for a highly unorthodox mix not only as far as algebra is concerned but also in view of Lytton's well-assorted percussives, Nies' custom-made electronic sound devices and Wissel's (prepared) saxophones.
Based on their search for a new and personal sonic language, Georg Wissel and Paul Lytton have for many years examined possibilites to modify and adapt their instruments to changing artistic needs. Their acoustic workshop duo was founded in 2006.
A self-declared sculptor of compressed air, Georg Wissel uses extended saxophone techiques as well a broad array of utensils for preparing his instruments. Paul Lytton, on the other hand, plays his 'table', arranging and bringing to life a vast number of meticulously picked household and percussion items.
The trio is rounded out bei 'electrosapiens' Joker Nies who has been experimenting with all kinds of electronic and analogous devices for live improvisation and sound design since the early 80s. Aiming for unpredictable connections, Nies frequently interferes as a resistor and waveguide with the wiring of his open circuits, omnichords and mysterious sythesizers.
There are no hidden agreements or concepts, all cards are played openly. The listeners become equal witnesses in an associative artistic process resulting in a sophisticated blend marked by sheer delight in and a strong sensibility for all kinds of sound and noise.
Sunday, 19 October 2014
subsonicspace
Black Box at Gasteig
Metal, Wood and Wire Special Project
Geoff Goodman, electric guitar, banjo, loop
Bill Elgart, drums
Sebi Tramontana, trombone
Ardhi Engl, self-built instruments, loop
Metal, Wood and Wire consists of guitarist Geoff Goodman (USA) and sound researcher/instrument builder Ardhi Engl (Indonesia). Using their respective musical backgrounds augmented by Jazz, classical and contemporary music, these two thoroughbred players set out on inquisitive excursions into the domain of free improvisation - never forgetting their sense of humor and the art of surpising themselves.
For their appearance within the scope of the subsonicspace series organized by Offene Ohren, they are joined by Sebi Tramontana (Italy) and Bill Elgart (USA), two internationally renowned improvisers, who are just as much at home with experimental music as they are with composed music.
Broad as it is, the musical range of Metal, Wood and Wire gets an additional grounding in the Jazz tradition through Bill's creative and elegant percussion work, while Sebi will open the doors for unfettered flights of improvisational imagination.
The story of Metal, Wood and Wire Extended has yet to be told. On this Sunday night, we will be privileged and thrilled to experience its unfolding.
Wednesday, 08 October 2014
subsonicspace
KIM at Einstein
Salmosax - Ho Fu Ne M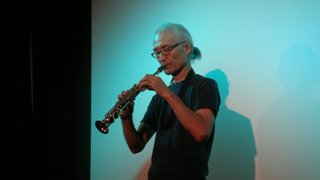 Katsura Yamauchi, saxophones
This evening will present the audience with a double event: Salmosax is the solo project of Japanese alto and soprano sax player Katsura Yamauchi, and Ho Fu Ne M is his experimental film work that evolved over a period of two years.
On both occasions, the audience will be taken on a virtual expedition combining past, present and future by physical memories, locations, sounds and elements - is it Zen?
In 2010 the t-u-b-e, now called the MUG, witnessed a truly extraordinary concert by this Japanese saxophonist who was then virtually unknown. Due to a musical approach that is both simple and singular, he occupies a special position even in his home country. Without being part of any movement or trend, he follows his own improvisational vision with remarkable rigor and consistency.
His project is called Salmosax and water is one of its key elements. Now he is back with new solo concepts and an experimental film that has been shown successfully at international festivals.
An exciting performance not to be missed!
Wednesday, 1 October, 2014
subsonicspace 2014
MUG - Munich Underground at Einstein
We celebrate properly
-> live in concert: Butcher – de Joode – Blume (see below)
-> our anniversary 10 years Offene Ohren e.V.
-> being awarded with the prize Spielstättenprogrammpreis 2014
Für seine "kulturell herausragende Livemusik-Reihe 2013" wurde der Offene Ohren e.V. Mitte September von der Beauftragten der Bundesregierung für Kultur und Medien, Frau Prof. Monika Grütters, in Hamburg ausgezeichnet.
Wir sehen die Auszeichnung nicht nur als ein wichtiges Zeichen der Honorierung unserer ehrenamtlichen Arbeit für den Verein selbst, sondern auch als ein Signal für alle Künstler, die abseits des gängigen Mainstreams neue, frische und spannende Improvisationsmusik-Erlebnisse zusammen mit einem offenen und neugierigen Publikum entdecken und entwickeln wollen. Ein positives Argument zur Fortführung unserer Arbeit, das uns Rückenwind für zukünftige Aktivitäten gibt!
Ohne die Förderung und Unterstützung vor allem durch das Kulturreferat der LH München, aber auch die Unterstützung durch unsere Partner, Freunde und Vereinsmitglieder, wäre es all die Jahre nicht möglich gewesen unser ambitioniertes Programm so umzusetzen. Ein herzliches Dankeschön!
Einem unserer Partner, dem Jazzclub Unterfahrt möchten wir an dieser Stelle nochmal gratulieren, er ist Preisträger in der Kategorie I. So sind im EinsteinKultur gleich zwei prämierte Veranstalter aktiv :-)
There´s really a lot to celebrate ...
Enjoy - Open Ears!
Tenth anniversary of Offene Ohren. The concert:
Butcher – deJoode – Blume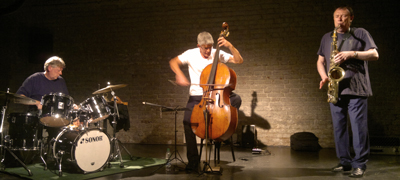 Martin Blume, drums
Wilbert de Joode, bass
John Butcher, saxophones
Prologue, summer of 2004: Guitarist John Russell and saxophonist Tanja Feichtmayr are on tour and are spontaneously invited to do a private concert in Munich. The feedback is phantastic. Old discussions flare up: why do we have so little improvised music here? Why are there generally so few opportunities to perform for improvising musicians?
Following the success of this duo concert, some friends of improvised music sit together discussing the seemingly utopian idea to bring to Munich the music for which they often travelled hundreds of kilometers through Europe.
On the same evening, they decide on founding an association - true to the motto "you don't stand a chance, so take it."
Soon after, the first concert took place at the Phoenix Lounge near Harras in the south of Munich. Offene Ohren, All Ears - the association's fitting name - was also the watchword for the perfomance of British saxophone player John Butcher, Dutch bassist Wilbert de Joode and German percussionist Martin Blume.
Who'd have thought back then that Offene Ohren e.V. would still be going strong today and celebrate its anniversary ten years to the day after its first concert featuring exactly the same trio?
In the intervening years, these musicians have appeared in various groups at our concerts, and all three are thrilled by the prospect of congregating again for our tenth anniversary in Munich.
We invite you to celebrate with us, the Offene Ohren team, the reappearance of the group that marked the beginning of our concert series!
Here is what one listener had to say about the trio in 2004:
Between caress and cheek - fascinating Free Jazz with the trio of John Butcher, Wilbert de Joode and Martin Blume
What is the essence of a musical instrument? Has it got a soul? Its own life? What are the limits of tackling it without breaking it? How far, for instance, can the language of a saxophone be extended without dissolving its character? Is an ordinary drum set really to be treated like this, and where in the handling of the beautifully shaped double bass does the caress stop and the cheekiness begin?
All three musicians are active in diverse groups of the improv scene and are
much- in-demand representatives of this genre. At the beginning of their first joint gig they seemed like solitary planets, self-absorbed musicians focusing on their vision with closed eyes.
But before long, a forceful dialog evolved, giving rise to loudly voiced questions and answers. Soon, in their spontaneously emerging performance, they were approaching ecstasy, expressing a highly concentrated power, at once destructive and beautiful. At times, the musicians seemed to interact with their shadows cast by the stagelight to invest their playing with an even greater sense of urgency. It was, as if Blume, de Joode and Butcher had known each other for ages.
- Ulrich Rüdenauer
Thursday, 28 August 2014
subsonicspace
MUG - Munich Underground at Einstein
WTTF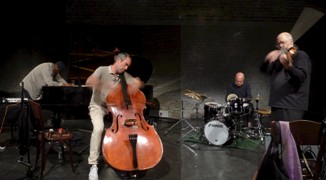 Pat Thomas (piano and electronics)
Alexander Frangenheim (bass)
Roger Turner (percussion)
Phillipp Wachsmann (violin and electronics)
WTTF - no, not "welcome to the future." Nor is this short for "want to trade for." No - this acronym built of the initial letters of surnames simply announces four first-rate improvisors.
Phil Wachsmann (violin and electronics), Pat Thomas (piano and electronics), Roger Turner (percussion) and Alexander Frangenheim (bass) have recorded together once in 1997 for a session at London's Gateway Studios.
Power, concentration, mutual respect as well as humor are the hallmarks of the resulting sound document, released only fifteen years later and the reason for a reunion of this by now historical quartet for an Offene Ohren concert at MUG.
Three of these four protagonists played at some of our earlier concerts, then still hosted at different venues: Roger Turner together with Konk Pack at the Phoenix Lounge, Alexander Frangenheim as part of Chris Burn's trio together with Axel Dörner at the Black Box, and Phillipp Wachsmann as part of the Lines Quartet at Seidlvilla.
These legendary performances evoke a kaleidoscope of remembrances which really make us curious about the musical event to be expected with the added presence of MUG novice Pat Thomas.
Friday, 23 May 2014
subsonicspace series
MUG - Munich Underground at Einstein
Kim Myhr and Ingar Zach
Kim Myhr - guitar
Ingar Zach - percussion
Kim Myhr ist in der kreativen Musikszene Norwegens gleichermaßen als Komponist wie Gitarrist präsent und hat einen prall gefüllten Tourkalender, der ihn bereits durch ganz Europa, Australien, Asien und auch Nord- und Südamerika geführt hat. Anfang Februar 2014 erschien seine erste Solo-CD All your limbs singing. Anlass genug ihn ins MUG einzuladen.
Solistisch erforscht er hier das Klangpotential seiner 12-saitigen Gitarre und ruft dem Zuhörer die frühe Musik Ligetis und Morton Feldmans in Erinnerung, macht aber auch Ausflüge in die amerikanische Folk Musik.
Kim Myhr ist ein Drittel des experimentellen Trios MURAL, zusammen mit dem australischen Flötisten und Saxofonisten Jim Denley und dem Perkussionisten Ingar Zach. Brachte er 2009 Jim Denley als Duopartner zum Offene Ohren Konzert (siehe Offene Ohren Konzerte auf CD) nach München mit, ist also jetzt sein Landsmann Ingar Zach an der Reihe.
Auch Ingar Zach hat 2013 intensiv an einem neuen Soloprogramm gefeilt, und so haben unsere Konzertbesucher die Chance, schon vor der für den Herbst geplanten CD Veröffentlichung die Ergebnisse anzuhören. Auf seiner Internetsite können sie einen Radiobeitrag bei l'improviste vom November 2013 nachhören und einen Eindruck seines mal filigranen mal kraftvollen Perkussionspiels auf seinem reichhaltigen Arsenal von Klangerzeugern bekommen.
Wednesday, 30 April 2014
piano spring
Black Box im Gasteig
Shuichi Chino + Tristan Honsinger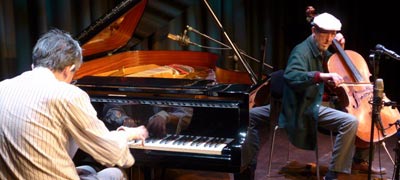 Shuichi Chino - piano
Tristan Honsinger - cello, performance
Die Freunde der improvisierten Musik präsentieren ein rares Duo zwischen dem irrlichternden Cello-Performer Tristan Honsinger und dem scheinbar schwerelos auf den Tasten tanzenden Pianisten Shuichi Chino.
Die beiden waren die begeistert gefeierte Entdeckung des letztjährigen Festivals Konfrontationen im österreichischen Nickelsdorf, seit Jahrzehnten ein Mekka der Improvisationsmusik. "Selten klang Improvisation so melodisch" schwärmte Peter Bruyn im britischen Musikmagazin The wire über diesen Auftritt.
Geboren in Tokio ist Chino seit den 70er Jahren als Produzent, Komponist und Musiker genauso im Jazz und Rock wie in Theater, Tanz und Film aktiv und organisiert Improvisationsfestivals in Japan und weltweit. Im Grenzbereich zur bildenden Kunst hat er auch Sound-Installationen geschaffen.
Der Amerikaner Tristan Honsinger lebte in Montreal, Amsterdam, Paris, Florenz und Berlin und ist jenseits seiner klassischen Cello-Ausbildung auch ein Meister der surrealen Wortperformance. Seine letzte CD-Veröffentlichung "Baboon" entstand Anfang 2012 bei seinem Triokonzert mit Enrico Sartori und Tobias Delius im Münchner MUG - organisiert vom Offene Ohren e.V., der sich freut, ihn dieses Jahr wieder als Gast begrüßen zu dürfen.
Friday, 11 April 2014
spiano spring
MUG - Munich Underground at Einstein
RED Trio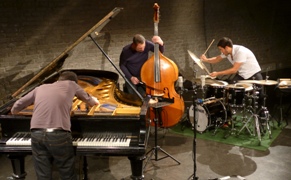 Rodrigo Pinheiro - piano
Hernani Faustino - bass
Gabriel Ferrandini - drums
The RED Trio ist eine Ausnahmeerscheinung der portugiesischen Jazz- und Impro-Szene.
Seine Musik hat keine direkte Verbindung zu allem was ansonsten in diesem kleinen Land am Rand Europas musikalisch geschieht – obwohl es bekannt ist für seine außergewöhnlich lebhafte Szene zwischen Jazz und experimenteller Musik.
Ja, sogar weltweit gibt es kaum ein Piano Trio mit vergleichbaren Ansätzen. Vor allem deswegen, weil es nicht wirklich ein Piano Trio im herkömmlichen Sinn ist. Das Klavier ist nicht im Zentrum, obwohl Pinheiros Virtuosität und Ideenreichtum außer Frage steht. Genauso wenig bilden Bass und Schlagzeug die althergebrachte Rhythmusgruppe. Vielmehr agieren alle gleichberechtigt.
Das Ergebnis ist eine kollektive, hierarchiefreie Musik. Konventionen wie Melodie und Rhythmus werden durch spontane texturelle Strukturen ersetzt.
Inmitten all der Abstraktionen geht indes der Jazz nicht verloren – immer mal wieder blitzen Reminiszenzen auf und lassen Anklänge etwa an Thelonious Monk oder Cecil Taylor erkennen. Aber auch zeitgenössische Klassik wie Messiaen oder Ligeti werden gestreift.
Insgesamt reichhaltige, manchmal fast brutale Musik, aber mit Raum für feine Details. Wirklich eine willkommene Überraschung!
Saturday, 29 March 2014
subsonicspace series
MUG - Munich Underground at Einstein
Strid - de Heney - Nørstebø
Raymond Strid - drums
Henrik Nørstebø - trombone
Nina de Heney - bass
Raymond Strid (Gush, Fire! orchestra, The electrics, etc.), Nina de Heney (Solo, Ullén/de Heney, Acoustic electronics) und Henrik Munkeby Nørstebø (As deafness increases, Skadedyr, Lana trio) fanden im Jahr 2011 zusammen und haben seitdem Konzerte in den bekanntesten Szene-Clubs Skandinaviens, wie Avgarde oder Blow out, renommierten Festivals wie dem Kongsberg Jazzfestival oder dem Festival InToDownTo gespielt.
Das Trio begeistert mit Improvisationsmusik von extensiver Dynamik, wobei variable pulsierende Klangwolken sich ablösen mit laserscharf herausgefrästen Rhythmusstrukturen, und der Individualismus der Musikerpersönlichkeiten in keiner Weise einem organischen gemeinschaftlichen Erschaffen von Sounds im Wege steht.
"Die Musik verrennt sich nie in vorhersehbare Loops, Wiederholungen oder bequeme Sequenzen oder Muster. Daher bleibt alles in steter Balance und Spannung, die sich kontinuierlich wandelt. Abgesehen vom Terminus "Improvisation" kann dieses Trio in keine stilistische Schublade gesteckt werden, sie spielen schlicht und ergreifend großartige Musik!" [Luigi Bozzolan, About jazz, Italien]
Friday, 7 March 2014, 8:00 p.m.
piano spring
MUG - Munich Underground at Einstein
Agustí Fernández + Mats Gustafsson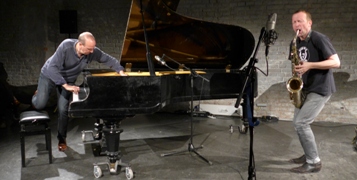 Agustí Fernández - piano
Mats Gustafsson - saxophone
Agustí Fernández ist zurück in München!
Nur knapp 10 Monate nach seinem spektakulären Solokonzert anlässlich des Jubiläumskonzertes Nr. 100 des Offene Ohren e.V. kommt er wieder in den MUG. Mit im Gepäck: die offizielle Aufnahme dieses Konzertes: "A trace of light".
Diesmal bringt er einen langjährigen Duopartner mit, Mats Gustafsson. 2004 bereits entstand der gemeinsame Tonträger Critical Mass. Der Schwede Mats Gustafsson stand schon ebenso lange auf der Wunschliste des Vereins.
Raue, ungezügelte Expressivität an Tenor- und Baritonsaxophon trifft auf aristokratische Meisterschaft am, um und im Konzertflügel. Filigrane Lyrik und mikrotonale Sounds an der Hörschwelle sind genauso im Repertoire dieser Vollblutmusiker zu finden. Aber auch wer sich an den Trioauftritt (damals mit dem Trompeter Peter Evans) 2012 beim ad hoc music Konzert in der Unterfahrt erinnert, wird überrascht werden.
Nicht weniger als ein spanisch-schwedisches improvisatorisches Spitzentreffen erwartet Sie im Munich Underground at Einstein.
The friends of improvised music of the Offene Ohren e.V. would like to thank the Kulturreferat München for its continuous help allowing to present these fantastic concerts!
© 2007-2018 Offene Ohren e.V.
last update 10 December 2018